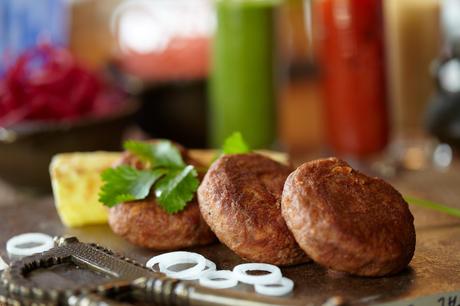 It was indeed a nostalgic trip down memory lane for me to be a part of The Great Kebab Factory's 20 year Celebrations, as I was there for their launch party some 20 years ago too.
It has been a long successful story for them which, I'm sure, is thanks to them consistently dishing out good food. I still vividly remember that it was an unheard of concept of buffets being served on the table with unlimited helpings when it had just started. So one could rightly say that they were a trend setter as far as buffet served on the table is concerned though today one sees a lot of restaurants doing the same.
I went there for dinner on a Sunday evening and out of 102 covers around 90 were taken. The ever smiling staff was churning out the kebabs and food at their same breakneck speed keeping everyone happy. Apart from the non-veg kebabs I tasted the vegetarian kebabs and must confess they were unexpectedly good.
I started my evening with a well-tempered tomato shorba paired with bakarkhani naan and moved on to ulte tawa ka paratha with a mildly flavoured mutton galauti, tandoori jheenga, tandoori chicken tangri, shammi kebabs stuffed with green chilies and cheese, murg malai tikka, and last but not the least, achaari, robust, flaky fish tikka. I just about managed to taste the bhatti ka paneer (an unexpectedly delicious yam/jimikand galauti), a lovely mélange of vegetables in the subz kaju shammi, heavenly meva and mawaki seekh, and yummy bharwan aloo with choonka hua matar.
These were followed by maa ki dal, yellow dal, butter chicken (which could have been better), rara mutton, mix veg, paneer and chicken biryani. I tried beetroot halwa for the first time and it was awesome. To be able to digest all this you get a choice of paan too.
The celebrations are on for the whole month of August and the offer is valid at all TGKF outlets at Radisson Blu Plaza Delhi, Radisson Blu Marina Connaught Place, MGF Mall Saket, Sector 18 Noida, Radisson Noida and Park Plaza Gurgaon ……..though the prices may vary in each outlet.
Priced at 1650/- and 1950/- for veg and non-veg and a 20% off for the birthday month August…it's a great place to head to.
Ratings (Out of 5)
Food: 3.5 | Drinks: 4.0 | Service: 4.5 | Ambience: 4.0 | Overall: 4
Timings: 12 noon to 3 pm (Lunch) & 7 pm -11.30 pm (Dinner) | Meal for two without alcohol: ~2400/++ | Alcohol: Yes | Disabled friendly: Yes
Address: Lobby level, Radisson Blu Plaza, National Highway 8, New Delhi, Delhi 110037