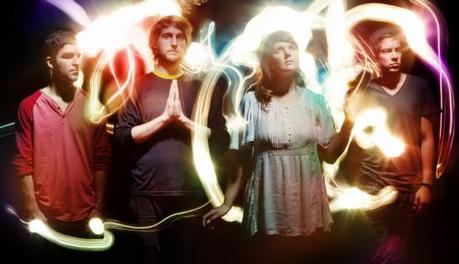 Robin Hood – The Great Book of John
Brimming with reverb-drenched vocals and layer after layer of natural instrumentation, The Great Book Of John (@gboj) stand out with their mixture of authentic recording and lush production. A far cry from the band's mostly acoustic debut, Yves' Blues, their self-titled release adds a great deal of density to the overall sound. Working with Grammy Award winning engineer Darrell Thorp (Radiohead, Beck) and Jeffrey Cain (Remy Zero, Dead Snares) certainly paid off and will hopefully give this band the traction they deserve.
Vocally, the songs are both relaxed and emotive, with singer Taylor Shaw slowly crooning his driving melodies over the mostly down-tempo tracks. There's simply a unique, poignant quality to his drawn out notes and delicate wordplay – at times channeling Dylan's ability to recount stories and paint vivid images. Adding to that lyricism are the band's airy guitars, seeping keys, and a slew of string accents, making The Great Book of John a serious contender in the indie music scene.
For those of you in the South, the band will be playing the dates below this August:
09.08 • Hi-Tone Cafe (Memphis, TN)
09.09 • Walnut Street Blues Bar (Greenville, MS)
09.10 • Vino's Bewpub (Little Rock, AR)
09.22 • Blue Canoe (Tupelo, MS)