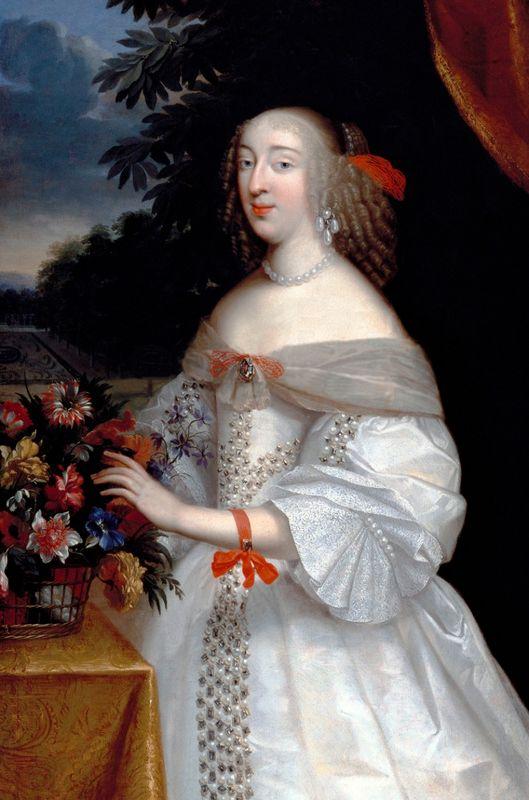 Anne Marie Louise de Montpensier, Elle, c1650. Photo: Galleria Sabauda, Torino.
Although it was Charles II with whom I fell headlong in love with while writing Minette, one of the characters that I enjoyed writing about the most was his first cousin, Anne Marie Louise de Montpensier who is perhaps better known as La Grande Mademoiselle and with whom he shared his birthday of the 29th May, although she was three years his senior.
Although I didn't really LIKE Mademoiselle de Montpensier, she was enormous fun to write about being perhaps one of the most ridiculously over the top, bombastic and interesting personages from the early years of Louis XIV's reign. I felt sorry for her too though – from the moment she knew of the birth of her cousin Louis in 1638, the eleven year old Anne Marie Louise had determined that she would be his bride one day, only to mess up spectacularly many years down the line when she ordered a cannon placed on the Bastille be turned on to the King's troops led by Turenne during the Fronde, an act that would lead to her being packed off in disgrace to her country estates for five years.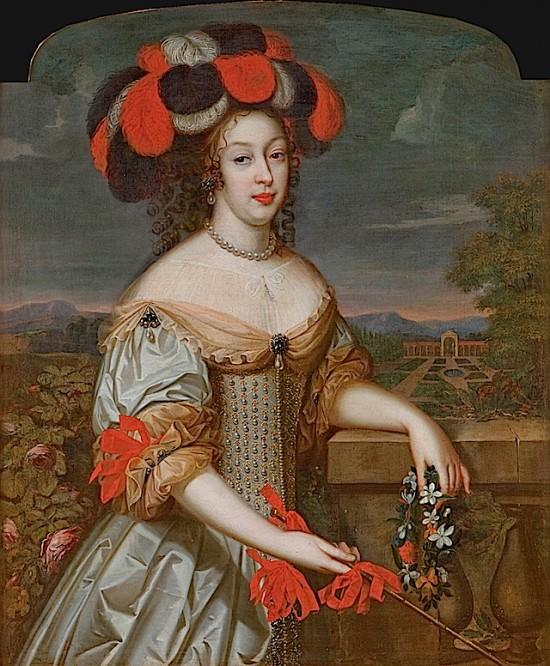 Anne Marie Louise de Montpensier, Elle, c1655. Photo: Christies.
Mademoiselle de Montpensier would eventually be welcomed back into the bosom of the royal family in 1657 and here is a little snippet from Minette, describing the grand reception thrown at the Louvre to celebrate the event. Of course it's a little awkward for Minette and her mother as Henrietta-Maria had been trying to set Charles II and his disgustingly wealthy cousin up for years but to no avail as Mademoiselle was more than a little bit snooty about her impoverished Stuart relatives and moreover less than impressed with Charles himself whom she considered to be not at all in the same league as the more polished Louis.
There's a huge party at the Louvre to celebrate Anne-Marie's glorious return to court. I don't want to go but Mam insists and in the end I stomp across the Rue Saint-Honoré with very bad grace, dressed in my favorite gown of pale pink silk, with a garland of roses from Colombes on my head and Mary's pearls fastened for luck around my neck. The entire court is crammed into the long gallery to see Anne-Marie officially received back at court again and as we go up the stairs, I hear some of the courtiers making bets about the likelihood of a royal wedding in the near future.
'After all,' Françoise de Rochechouart whispers to me as I walk past her. 'Anne-Marie may be twelve years older than Louis but she's still the wealthiest heiress in all Europe, if not the world and that's not to be sniffed at. Why else would your mother be so desperate for her to marry one of your brothers?'
'All her millions would buy a lot of ships and guns,' I say thoughtfully. I look over the bobbing heads of the crowd to the podium where we are all to sit together. Tante Anne and Louis are already there and survey the courtiers in gloomy silence. Philippe is standing just behind them, chattering with Armand de Gramont and occasionally shrieking with nervous laughter.
'You must be so thrilled to have your cousin back in the fold again,' Françoise says in her quiet way as we walk together to the podium. 'It's certainly been peaceful without her.'
I sit down beside Mam just as the doors at the end of the gallery swing open and Anne-Marie strides into the room, her eyes fixed on Louis, who squirms awkwardly in his chair. She may have been stuck in the countryside for years but its clear that her interest in fashion hasn't abated at all as she's wearing the most extraordinary gown of lavish, shimmering purple satin embroidered all over with sapphires and pearls.
'Is that ermine?' Philippe whispers behind me as she comes closer and we can see that she is wearing a purple velvet mantle fastened to her shoulders and trailing a full twelve yards behind her. Two grumpy faced page boys walk behind, hiding yawns behind their small hands and making desultory attempts to carry the mantle with their fingertips, Anne-Marie is moving too fast though and so they keep dropping it and in the end give up so that it trails in the dust, almost pulling her off balance as it does so.
'Good God,' Mam murmurs beside me as she sails somewhat wonkily towards us. 'I can't remember the last time I saw such a spectacle.'
Everyone knows that Anne-Marie has been back in the bosom of our family for weeks but they all pretend to be touched and wipe away invisible tears as Tante Anne kisses her over rouged cheek and Louis himself leads her to her chair on the podium, his face carefully devoid of all expression although I fancy I glimpse a glint of amusement in the depths of his dark eyes.
'It's a pleasure to see you at court again,' my mother says with a smile as Anne-Marie takes her seat beside her. She reeks of musky perfume and wine. 'There's not a lot to do in the countryside,' Mam whispers to me with a wry shrug.
'It's always a delight to see you too, aunt,' my cousin replies with a fake smile that reveals all of her large teeth and shining pink gums. She looks past Mam to me and frowns. 'And who is this?' Her voice is shrill with mingled jealousy and outrage. 'It can't be…'
'Surely you have not forgotten my daughter, your little cousin Henrietta-Anne?' Mam says smoothly and, if I'm not mistaken, with more than a pinch of satisfaction. I was a child of eight when she last set eyes on me, but I'm thirteen now and, I'm told, more than reasonably pretty for a princess although I don't see it myself for I think my jaw is too long, my hair too red and my lips too thick for true prettiness.
Anne-Marie glares at me as if I am a snake that has just slunk out from inside Mam's thin bosom. She even recoils a little. 'Little Henrietta?' she repeats with a nervously brittle laugh. 'My, how you have grown.'
I force myself to smile and incline my head in what I hope is a friendly way. I feel anything but friendly though. I notice Anne-Marie's protuberant pale blue eyes slide past me to Philippe and have to raise my pretty painted fan to hide my smile. So that's where the wind lies, does it? She hasn't got a hope of marrying Louis now but could his younger brother still be within her grasp?
'Well, isn't this nice?' Tante Anne says loudly, looking around us all with what appears to be great satisfaction, apparently pleased to have the royal family all together again.
'It's certainly very pleasant to be back,' Anne-Marie says, dragging her eyes away from Philippe, who gives a nervous little laugh and hurries off with his friends to form a little whispering gaggle on the other side of the room. Olympe de Mancini, recently married off by her uncle, alarmed by the King's attentions towards her, to the Comte de Soissons and already hugely pregnant saunters over to them and casts a spiteful dark eye over my cousin. As I watch them all put their heads together, Armand de Gramont turns and looks directly at me for just a moment before smiling and turning away again.
'You know, I could have cheerfully wrung your neck when it happened,' Tante Anne says ruminatively, making us all look at her with surprise. 'It's lucky that you were nowhere near me at the time.'
Anne-Marie looks as if she is going to be sick. 'Well, that's nice to know,' she says at last as Louis gives a snort of laughter that he has to pretend is a coughing fit.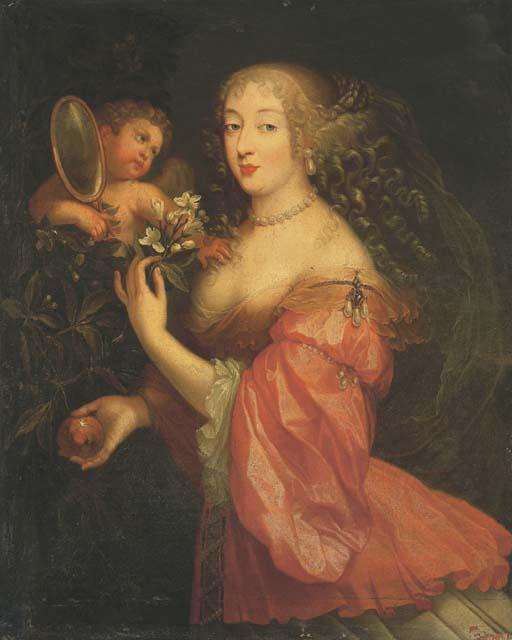 Anne Marie Louise de Montpensier, de Seve, c1645. Photo: Christies.
Interested in reading more about La Grande Mademoiselle? I really recommend Vita Sackville-West's superb biography Daughter of France: Anne Marie Louise D'Orleans, Duchesse de Montpensier.