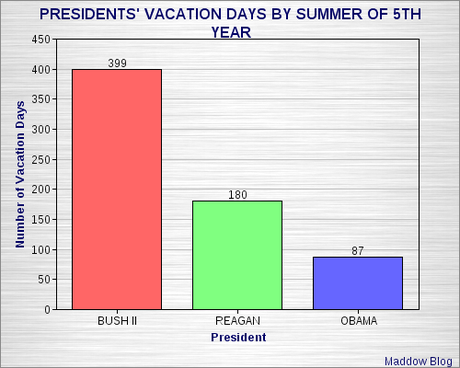 Chairman of the Republican National Committee Reince Priebus is upset because President Obama is taking an eight day vacation, and many of his congressional colleagues agree (even though they are themselves in the middle of a 5 week vacation). Priebus said:


"I think he has a lot of work to do, he's the king of golf and vacations and I guess it's par for the course. I don't think he cares that much."


The chart above shows just how silly the GOP whining really is. By the summer of his fifth year, Republican President George W. Bush had taken 399 days (or about 13 months) of vacation time. And right-wing icon Ronald Reagan had taken 180 days (or 6 months worth) of vacation time. That makes President Obama's 87 days (less than 3 months) look pretty paltry in comparison.
The truth is that President Obama is one of our hardest-working presidents, and has taken less time off. The Republican whining over President Obama taking a short vacation just shows their unnatural (and probably racist) hatred for the president.