I don't have much time to myself lately, so when I do, when I want to watch something and just have a rest, I want something I really like, and I'm also really fed up with turning the TV on and seeing the super sexist Two and a Half Men.
So I started looking for a good tv show, and I found The Good Wife. I'm almost done watching the first season (please no spoilers) and I'm really surprised about how good the show is. It takes the character of a woman whose politician husband just cheated on her with a prostitute and allegedly became corrupt and goes to jail.
This woman, called Alicia, then has to get out of her stay-at-home wife role and gets herself a job as a lawyer (she didn't pursue her carreer for the sake of her husband's job) to support her family. It takes the typical quiet wife character out of the stereotype and shows all her potential.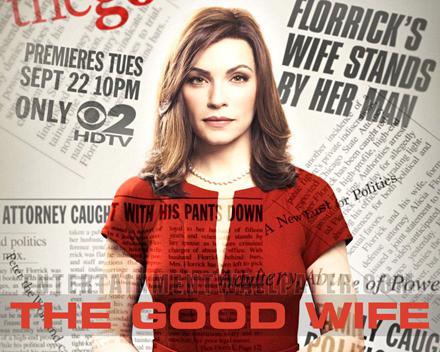 The show is genuinely feminist since it shows common sexist situations: how she is seen as her husband's wife, not herself, how people think she got her job thanks to her husband, how many think she sleeps with her boss, how even some people during a business meeting congratulate her for her looks. It's amazing to see this clever character rise up in court and be herself, not only as a woman, but as a person with opinions and responsabilities.
However, it's not about women against men, all characters whatever the gender are authentic and all can be smart, greedy, funny…
There are also a few more female characters on the show that really show intelligence, political involvement and professionnal success.
Here's the trailer, I advise you watch the show!
I'll keep looking for good stuff on TV or on the big screen and keep you posted!