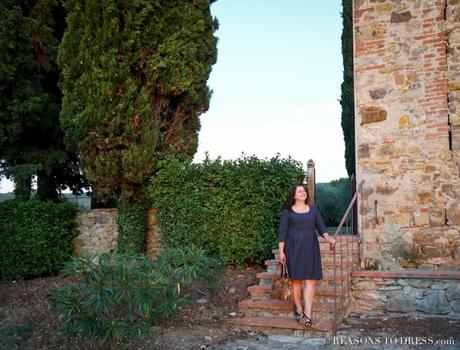 I contacted Dress Mavens a few months ago because I was searching for a something very particular.
I was searching for confidence.
Not for myself, but for someone I love.
My sister.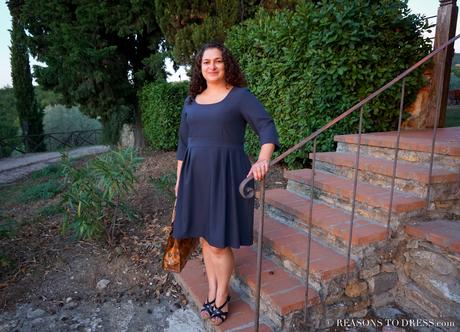 I asked Dress Mavens to help me prove to my sister who is a loving wife, mother of two kids, generous volunteer and 50+ hour work week Executive, that you CAN dress beautifully and professionally in a DRESS THAT FITS PERFECTLY.
Let's put a few things in context and you tell me if this reminds you of anyone. She's a woman who has no time to e-mail her friends or family, no time to chat on the phone, has really early mornings and late nights, a to-do list that is continually growing and between balancing work and family responsibilities it is a miracle if she finds the time for stories and snuggles!
She has no "Me Time", and definitely no time to "waste" in the mall trying to buy clothes off the rack.
My sister never drops the ball on anything but superwoman she is not. In the morning, when she leaves for work, her beautiful curly hair is wet and she lets it air dry in the car (even in frigid Canadian winters!), her work clothes are an array of formal business "staples" like structured pants, sensible shoes and suit jackets, all things she can quickly throw on to look professional but that are not exactly feminine! And although her jewelry box is full, she never manages to find the time to open it and actually wear anything, and she feels guilty if she puts herself before others.
Honestly, I think this happens to everyone at some point, and especially to women and mothers. We get busy, and the hours in the day shrink as we try to carve out as much family time as we can, leaving no time to think about how we feel and how we look.
But there must be a better way, an easier way to look fantastic and feel confident without sacrificing precious time. And that's how I found Dress Mavens.com, a little internet research and this ethical, online brand had all the answers.

Dress Mavens.com
Dress Mavens is an online retailer based in Canada but available in all of North America. Started by professional women who do not fit the "standard", they wanted to offer women the opportunity to have custom tailored dresses that compliment their exact body shape. Their whole philosophy is about accentuating the positive and camouflaging the not so positive!
In fact, if you go to their website you can shop, not only by the of a dress but by the SHAPE OF YOUR BODY!
And I love that.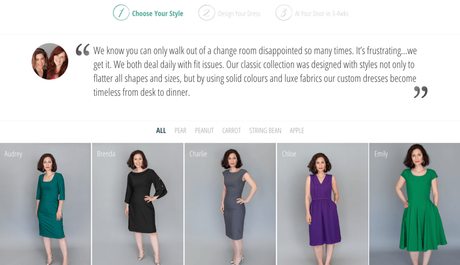 There are only a few websites that offer custom tailored dresses but one of the things that really attracted me to Dress Mavens was their transparency. Not only to they tell you exactly where their dresses are made but they have also created the Dress Mavens' EMBRACE campaign which encourages women to post a photo on Instagram sharing what they have embraced about their body. For each photo, the company donates $1 to the Girls Inc charity.
Made in Hon An, Vietnam by award-winning tailors who comply with ISO 9001:2008 standards including corporate social responsibility and highly ethical practices, a portion of each sale supports the Quang Nam Orphans. They GIVE BACK to the community where they do business, instead of taking advantage of it. Their pricing reflects their ethical workplace environment, luxe choice of fabrics and remains very accessible for people looking for something that is high quality with the added benefit of being made to measure.
The Ordering Process
I was a little worried about the ordering process at first, because I've actually had a few different experiences with "custom tailored" clothing websites that were not that great. This experience was so perfectly detailed and all aspects of the process are taken into consideration. If, while you are taking your measurements, you have any doubt that you are doing it correctly, they have created videos for EACH step so you can't go wrong!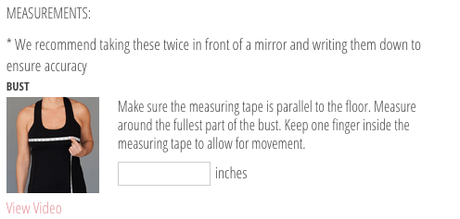 The sizing was PERFECT, as in.... what you order is what you get. There is no need to go up a size or down a size because you are worried that it will be too big or too small. This is the beauty of their custom made dresses, it will be exactly as you ordered and the fit is so flattering, because it is made to measure. Please note that the zipper is a disappearing zipper and is not meant to be strained, so it is very important that you are true to your EXACT measurements and you may want to add a centimeter if you happen to bloat in the summer or at certain times of the month!!
My sister ordered the IVA dress which hides EVERYTHING without being too billowy while maintaining a feminine and flattering shape. This dress is available in a two tone design or tone on tone and my conservative sister went with tone on tone deep grey that was just lovely.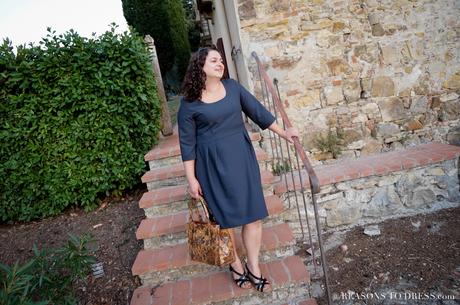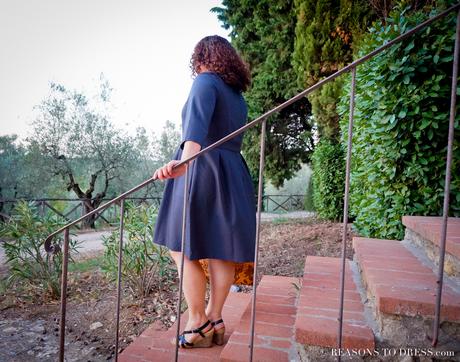 #bosslady
There is a price to pay in being a boss lady, the women who have worked their way up the Corporate rank and need to prove daily that they are the right choice for the job. These are the pioneers who are making workplace equality easier for the rest of us, but it comes with a big price tag called TIME.
In a professional world you'll find yourself in a sea of men and in order to be taken seriously you must be very aware not to dress inappropriately, however, this does NOT mean dressing "like a man"! Dress Mavens caters to professional women, looking for a dress that is not only workplace acceptable but down right gorgeous! A dress that can take you from the Boardroom to a post-work cocktail, or if you you're like my sister and have no time for cocktails why not wear it for a wine tasting in Tuscany with your husband when you're on vacation!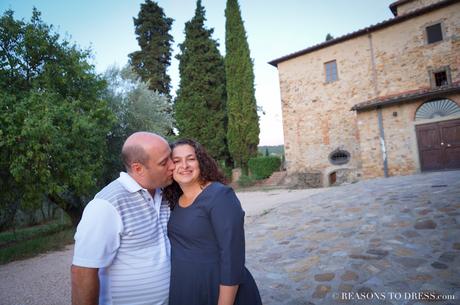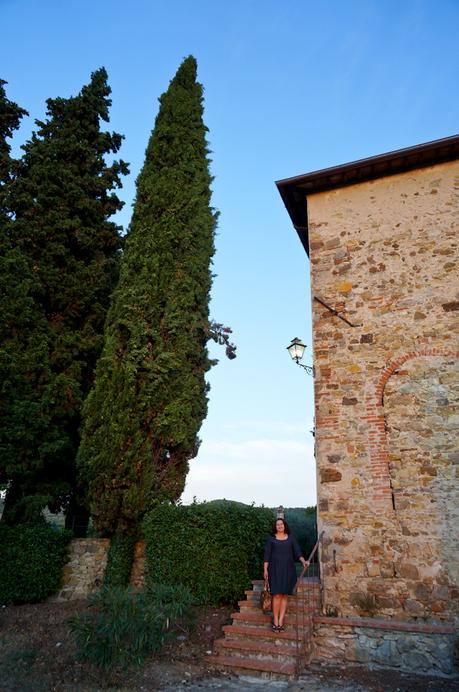 Clothes Create Confidence
I've written before here about how I truly believe clothing has the power to change us and how we see ourselves. When you feel confident you project that to the world and it is a very real transformation.
My sister confessed that after I asked her to place an order with Dress Mavens.com she was WORRIED about trying on her dress when it arrived in the mail. Her hesitation came from not wanting to be disappointed when her "perfect dress", the dress she had fallen in love with during the ordering process, didn't fit.
But it did fit, and I have no hesitation in fully recommending them to any woman looking for a high quality, custom tailored option, whether you be tall, plus sized, a "pear", an "apple" or the whole salad! And I ESPECIALLY recommend them if you are petite like me! In fact, next week I will be sharing my Dress Mavens dress, made to measure for my petite, 150 cm / 4'10", 105 lb curvy frame!
She was SO HAPPY when she tried her dress on and looked in the mirror only to find that it didn't gap, bulge or pinch. She was even inspired to buy herself a new beautiful bag for work to wear both her dress and bag out to corporate meetings. Oh and did I mention she JUST sent me an email from the hairdressers and left the kids for an hour to have a bit of WELL DESERVED ME TIME!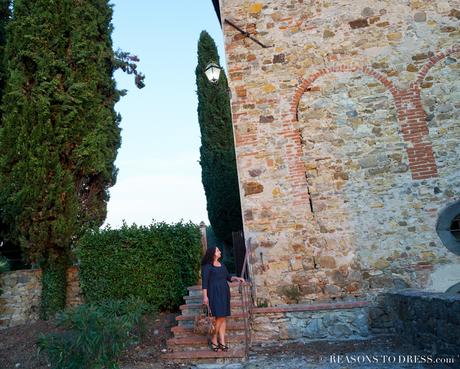 20% off for a VERY LIMITED TIME!
The kind women of DressMavens.com have offered a VERY exclusive coupon to all of my readers for 20% off using code RTD25. This code goes live today at 12 pm EST time and lasts for 72 hours and is quite rare because they normally do not discount.
A special thank you to Dress Mavens for being so responsive to this collaboration and for creating their wonderful company! If you've never heard of them please check out their site but also sign up for their newsletter and blog, it is filled with some moving personal stories and great tips on how to dress for your body.
Now onto YOUR style...
#REASONSTODRESS Street Style Linkup

RULES OF THE LINKUP:
#reasonstodress is a linkup intended to inspire everyone to get dressed up & OUT OF THE HOUSE!
Join in by:
Adding the URL to an outfit post an Instagram photo tagged #reasonstodress
Follow @reasonstodress & let me know if you'd like me to follow you back, this is about community after all
Leave a comment, I'd love to visit your blog and return the kind gesture
Let people know that you've linked up by mentioning Reasonstodress.com on your blog
Feel free to use the #reasonstodress hashtag when sharing your outfits on twitter & I will retweet you!
CO-HOSTING:
If you'd like to have your blog featured e-mail me about co-hosting, it's free and I'd LOVE to have you! reasonstodress@gmail.com