Any player that has been with me for at least one season has heard me say many times the following:
"The game of baseball is a much tougher opponent then any 
team you will ever face."
What does this mean?  
It means that sometimes a team or an individual player will place too much emphasis on who they are playing instead of just playing the game.  When teams/players focus on playing the game the right way, it won't matter who they play.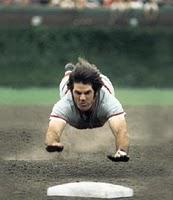 Pete Rose never cared who he
played.  He played the game.
We have all seen teams "play down to their competition." They knew the team they were playing wasn't as talented and figured they didn't need to play as well in order to win.  Although it may be true that the team does not have to be at their best to win, that is obviously a dangerous attitude to take as an athlete.  When you focus on playing the
game
as opposed to a
team
, you will never have a let-down because the game itself is much tougher.  
Playing a
team
instead of the
game
leads many to become what is referred to as a "scoreboard player" or "scoreboard team."  They mistakenly think that as long as the scoreboard shows that they've won, all is good.  As a coach, I want to win just as much as the next guy but some of my loudest bursts of anger directed at my team have been after games in which we have won.  I rarely raise my voice on the field but when I do erupt, it is done to send a very clear message to my players that there is a right way to play the game.  If you lose while respecting the game and giving it your all, so be it.  Losing is part of life.  Stay positive and move on.  But hell hath no fury like me addressing a team after it has just disrespected the way the game should be played.
If you find yourself or your team performing inconsistently with many ups and downs in terms of effort level and performance, many times it is because of "scoreboard" thinking.  To be more consistent at playing at a high level, focus on playing the
game