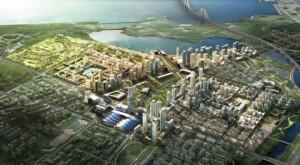 Meet George Jetson. He apparently lives in Songdo, South Korea. Songdo is a new kind of city being built pretty much from scratch right next to the Incheon International Airport, outside of Seoul. It's a fledgling city that just a few years ago was 1500 acres of nothing. But now Songdo is all cranes and glass skyscrapers, being built for the simple reason that it's right next to the airport. It's a leading example of a new kind of city springing up around the world – an "aerotropolis," which is ostensibly a city built around an airport.
As you know if you travel at all, airports are almost always built on the outskirts of cities. But Songdo is part of a new wave of development that is changing that paradigm by attempting to create cities that are more accessible from the airport, creating a much more convenient experience for travelers.
As detailed recently in the Washington Post, Songdo could very well change the way we travel in the future. Experts predict that Songdo will become an important international business hub in the not-too-distant future. The airport itself is already an adult playground – a high-end shopping destination that features 73 luxury shops, and a casino in the works.
The Aerotropolis concept was best explained in John Kasarda's and Greg Lindsay's book Aerotropolis: The Way We'll Live Next. Lindsay told the Post that in an era of globalization efficiency is paramount; he offered an updated version of the old, location-focused real estate mantra, saying the new world requires "accessibility, accessibility, accessibility."
Plenty of people have noted that "the world is smaller" – meaning that the barriers to international travel have come down. The anticipated rise of the aerotropolis would appear to be a logical next step in this progression – as easy as it is to travel halfway around the world, it's still a pain in the rear to get from the airport to your hotel, at least in most places.
But new cities like Songdo appear to solve the problem of that inconvenience. And it could mean travelers in the future have a much easier time getting around.