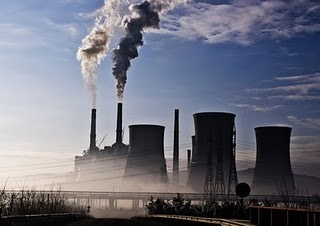 Environmentalists and a handful of politicians have dreamed of a day when coal power plants are shut down and supplanted by renewable energy sources. However, even though renewable energy is on the rise, coal will likely continue to be a significant part of the world's energy supply for decades to come.
This is especially true in the burgeoning economies of China and India, where coal accounts for approximately 70 percent of total energy production. In an interview with the Wall Street Journal, Chief Executive Officer (CEO) Tom Albanese of mining giant Rio Tinto said, "We certainly see that the energy security around coal [in these countries] is quite important, and it will continue to be the focus." Though not ideal for the environment, newly constructed coal plants are cleaner and 10 to 30 percent more efficient than older ones.
Coal in the U.S., by contrast, has been playing a diminishing yet still vital role. CEO of American Electric Power Co. Michael Morris (also present at the interview) said "It's clear that coal is going to bow to combined-cycle natural gas when you look at new installations." From 2008 to 2009, energy derived from coal reduced by nearly 12 percent, to a total of 44.5 percent. According to the Energy Information Administration (EIA), two of the important factors have been the higher price of coal and lower price of natural gas.  While cost is obviously a huge factor, cap-and-trade legislation poses to make an even bigger impact. Many predict it could force 30 percent of existing coal plants into retirement.
As for renewable energy, both CEO's agree that it will occupy a very small slice of energy production without breakthroughs in existing technology. Albanese said, "I always tell our team, don't underestimate solar…but, that being said, it's still a pretty high price point compared to alternative technologies."
[Image]