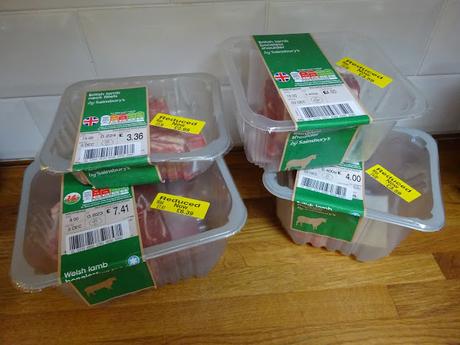 I spied a few bargains when I was out and about the other day.  
Not vast amounts of money off as I was shopping quite early in the morning, but the coincidence of finding some reduced British and Welsh lamb only hours after Lovely Hubby's admission that he would prefer some lamb for Christmas rather than the chicken he usually gets, meant that these packs on the reduced shelf caught my eye immediately.
We don't have turkey in this house .... ever.  I have a 'thing' about the way they are handled and treated in the processing plants.  I saw a programme back in the late eighties when my turkey ban began, and the images have lived with me until this day.
We have talked a few times about raising a few turkeys ourselves so that Lovely Hubby could eat a home reared one, but he has a fear that we would end up with half a dozen of the ugliest pets ever running around the paddock until they finally keeled over from old age.
A turkey is for life .... not just for Christmas ;-)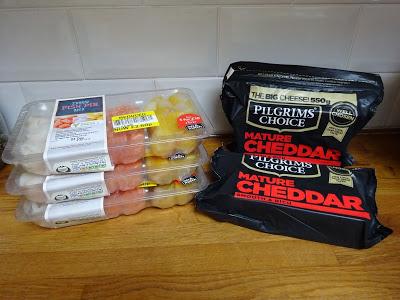 I got a couple of other things alongside the lamb.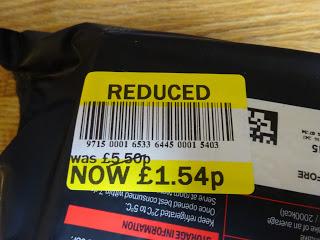 The cheese was a fantastic reduction and is now nestled in the freezer, grated and boxed and ready to last us for a long time.  The beauty of buying mature cheddar is that a little goes a long way in the taste stakes, and as I try not to eat too much cheese, although I love it, that suits me just fine.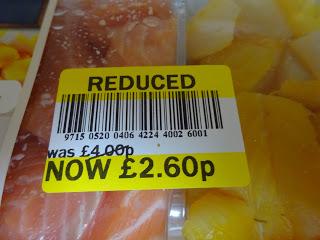 The fish pie selections are also in the freezer, which is now full ... to the very top.  Usually I have a  bit of room for Christmas purchases but unless we eat a lot over the next two weeks there is no room.  It is not a worry though because at least this means we are going into next year with a good selection of food, both bought in and home produced.
All in all not a bad saving, what would have cost me £41.77 actually came to just £27.44 a saving of £14.33.  I've got to get in the habit of bargain spotting  even more than I currently do if we are to survive next year with our limited housekeeping budget.
I'm ITCHING to open the Sealed Pot to find out what cash we will have to go with the Nectar points and the vouchers and coupons that I have pinned to the notice board in the kitchen, but I've been told to wait until LH is home for the Christmas holidays so we can do it together.  I do keep picking it up and marveling at the weight .... I hope it's not all coppers!!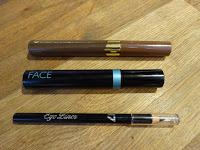 Reverse Advent - Day 8
Three unused make up items.   Never has my make up bag been lighter!
Sue xx