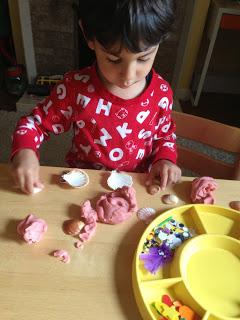 The other day I set up the table for Derin to play with playdough. When he was finished I left it on the table thinking Defne might play with it. I had  also prepared a bin full of water beads and put it on the table for them to play. While Derin was napping, Defne started playing with the water beads. I left her alone in the play room and when I came back about 45 minutes later I found this.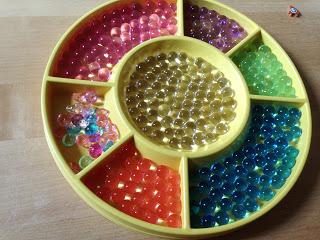 She had sorted the water beads according to their colors and the ones that are broken are put in one of the dividers as well. Now, if you would ask any adult to do this, s/he would probably say "Are you kidding me?"
However for a child, it is different. Defne came up with this idea on her own during her play She must have met her need for order or something else that we may not be aware of.
There were still some water beads left in the bin, but she stopped sorting when her needs were met. Also, the beads are slippery so she must have shown great care and concentration during the transfer and apparently she enjoyed doing it.
In a Montessori environment, the child has the freedom to choose what to do. The child is free to move around, to communicate with the adults or the other children, to play or to rest if that is what s/he wants to do.
Respecting and not interrupting a child's concentration is central to Montessori's philosophy. The child needs  time and freedom to repeat and to repeat endlessly, until her/his needs are met. Sometimes, we, as adults, tend to think that children are "wasting" their time, they are not "learning" anything. In fact, children learn all the time if we give them  that time and freedom. For instance, during her play Defne developed her fine motor skills and math skills (one to one correspondence)
Derin is 3.5 years old now. Recently  I  have started to set up the same activity for both kids, modifying the activity a little bit according to their age or interests.
When Derin woke up and saw the water beads, he asked for me to set up the "lego slide". He wanted to transfer the beads using the spoon. Each child is different and following the child's interest always helps them to develop and to learn, in their own way and in their own time.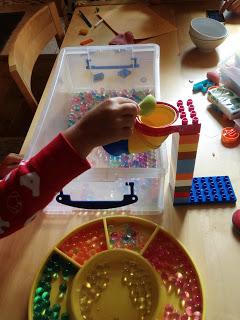 Thank you so much for stopping by! If you enjoyed this post, please join us on Facebook,Twitter,Pinterest and G+. Click on the buttons on the right hand side to follow us on these platforms.