A daily documentation what's we've seen, want to see and aren't even trying to see at the 2011 Toronto International Film Festival.
THURSDAY, SEPTEMBER 15, 2011
We wish we were seeing: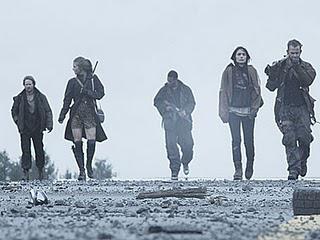 THE DAY - A post-apocalyptic film about five surviving banding together to stay alive in the ravaged world. Starring Shawn Ashmore and Lost and Lord of the Rings' Dominic Monaghan. (Because Monaghan knows how to pick 'em.) (11:59 p.m., Ryerson)
VIOLET AND DAISY - Alexis Bledel and Saoirse Ronan play teenage assassins in a drama penned by the writer of Precious. (6 p.m., Visa Screening Room)
Also playing...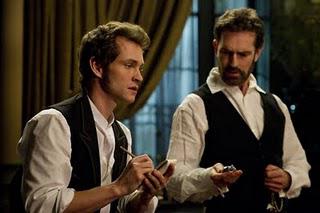 HYSTERIA - A period drama about the first vibrator. Seriously. Starring Maggie Gyllenhaal and Hugh Dancy, this sure-to-be ridic romantic comedy is based on the life story of a true, uh, self-starter. (9:30 p.m, Roy Thomson Hall)
TAKE SHELTER - The strictly stellar Michael Shannon (Revolutionary Road, TV's Boardwalk Empire) takes the disaster drama genre by storm with yet another movie-making performance. Also starring the white hot Jessica Chastain. (6 p.m., Ryerson Theatre)
Notes from last night/afternoon:
PEACE, LOVE AND MISUNDERSTANDING was about exactly that. Although the story was very predictable, Jane Fonda, Elizabeth Olson and Nat Wolff give some unexpectedly entertaining performances. And if you haven't heard of Wolff yet (ie. if you're not a 10-year-old who watched The Naked Brothers Band on the Family Channel), keep a look-out; he's a McLovin in the making.
Don't think that just because you pay for a Gala screening, you're going to see any stars to be struck by. At the JEFF, WHO LIVES AT HOME, world premiere at the Elgin Theatre last night, the stars (Jason Segel, Ed Helms, Susan Sarandon, Judy Greer) were nowhere to be seen. The Duplass bros (the directors) were there, however, and gave highly enthusiastic As to some not-so-awesome Qs.\
Speaking of JEFF, WHO LIVES AT HOME ... The flick may be dubbed a comedy but its got a whole lot of charming drama in it. It can get slacker preachy at points and drags in the middle but it will leave you feeling good. And like you want to watch Signs. (More on that in the review to come.)