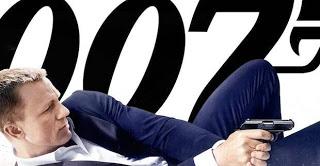 Honestly, I've only seen one 007 movie, but I've heard tons of the series' theme songs. I'm not a huge fan of action films (though I'm giving Skyfall a shot this weekend), and--don't hate--I almost feel a great Bond theme can pull off even more attitude than the film itself (says the girl who has only seen one of them). Anyway, let's stop talking about the things I don't know about and let's turn to some 007 theme songs that'll make you feel like a secret agent just listening to them.
(And, although I risk losing the reader altogether at this point, Paul McCartney's "Live and Let Die" isn't even on my list. Don't get me wrong, I love McCartney and think he's one of the greatest songwriters of all time, and although it is a really good song, I just don't feel the swagger.)
5) "The World is Not Enough" by Garbage

What?! Garbage makes the list and McCartney doesn't?! This is ludicrous! It's sheer madness! Well, not really. This song is arrogant, dreamy and sensual at the same time, with a classic touch. Are those not also the traits of a perfectly swoon-worthy Bond?

4) "Diamonds are Forever" by Shirley Bassey
There's a good chance that you know this song because of Kanye West's "Diamonds from Sierra Leone" (which is fine because that's also a great song). After Bassey's iconic "Goldfinger," they brought her back for another theme... and another, "Moonraker." A fourth, please?

3) "Another Way to Die" by Jack White and Alicia Keys (Quantum of Solace)
If you don't already know, let me tell you, Jack White is amazing. Along with McCartney, he's one of my favorite songwriters of all time. This song is dark, powerful and hits you hard when you least expect it. (Yet another idealistic embodiment of Bond.) It's also a very unlikely and pleasantly surprising duet.

2) "Skyfall" by Adele
This song is pure brilliance. If you're looking for someone to pick up where Shirley Bassey left off, you've found it. Sign her on right now for two more themes.

1) "Goldfinger" by Shirley Bassey
Well what else would it be? I've already praised her twice. This song is smooth and rich, moving and simply unforgettable.