A daily documentation what's we've seen, want to see and aren't even trying to see at the 2011 Toronto International Film Festival.
WEDNESDAY, SEPTEMBER 14, 2011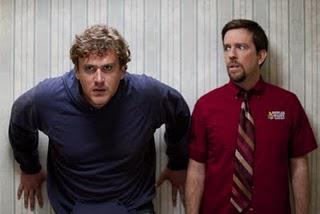 Photo: Paramount Vantage
We're seeing:
JEFF, WHO LIVES AT HOME (Emily) - A comedy from the Duplass brothers (Cyrus, The Puffy Chair) about a day in the life of a slacker, who is played by the always lovable Jason Segel. Even if the rest of the cast wasn't awesome (Ed Helms, Judy Greer and Susan Sarandon), I'd be sold. I'll watch anything that could play out like what I imagine life would have been like for a grown-up Nick Andopolis. (9 p.m., Visa Screening Room)
PEACE, LOVE, AND MISUNDERSTANDING (Michelle) - Shortly following a divorce, a lawyer takes her two teenage children to meet their hippie grandmother, played by Jane Fonda. (11:00 a.m., Visa Screening Room)
We wish we were seeing: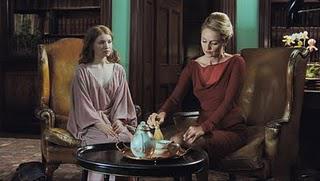 SLEEPING BEAUTY - A sexual thriller loosely based on the fairytale of the same name, following a college girl who becomes a sex worker of sorts, agreeing to allow clients to do whatever they want to her while she sleeps. (9 p.m., TIFF Bell Lightbox 1)
LOVELY MOLLY - A new film from the director of The Blair Witch Project? Yeah, I think we might give this spooky house flick a go. (11:59 p.m., Ryerson Theatre)
Also playing...
TRESPASS - Joel Schumacher directs a orange-tinted sunglasses-wearing Nic Cage and a vampy Nic Kidman in a film about a home invasion that gets flipped on its head by the attacked parties. (9:30 p.m., Roy Thomson Hall)
STARBUCK - A French Canadian flick about a sperm donor who is forced to meet the 100s of children he fathered for fast cash. (6:30 p.m., Ryerson Theatre)
Notes from last night/afternoon:
INTRUDERS was a cross between Pan's Labyrinth and The Messengers, thematically (childhood imagination comes face-to-face with supernatural horror) and critically (amazing at times, predictable at others).