A daily documentation what's we've seen, want to see and aren't even trying to see at the 2011 Toronto International Film Festival.
MONDAY SEPTEMBER 12, 2011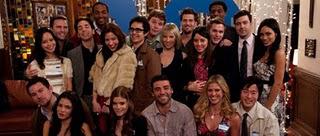 Photo: The Playlist
We're seeing:
TEN YEAR (Ava) - A dramedy about a group of high school friends and what happens when they meet up for their ten year high school reunion. Stars include Channing Tatum, Jenna Dewan-Tatum (yes, Channing's wife and former Step Up co-star), Rosario Dawson, Kate Mara, Max Minghella, Chris Pratt and Justin Long - just to name a few. (9 p.m., Ryerson Theatre)
YOU'RE NEXT (Emily) - This Midnight Madness pick, which recounts a truly horrific family reunion (it gets crashed by Strangers-like killers!) made its first mark on the fest on Saturday night (or rather, early Sunday morning). And apparently (well, according to some friends I made in a rush line), the crowd dug it majorly. (6:30 p.m., AMC 7)
We wish we were seeing:
Photo: Summit Entertainment
50/50 (Emily) - Seth Rogen tries to help his buddy, Joseph Gordon Levitt deal with the news that he's got cancer and thus, only a little while left to live. This dramedy, directed by Jonathan Levine (The Wackness and the still-yet-to-be-released, All the Boys Love Mandy Lane) sounds dramatic on paper, but the trailers make it seem funny and honest. (6 p.m., Ryerson Theatre)
CAFE DE FLORE - From C.R.A.Z.Y. director Jean-Marc Vallée comes a story about love a destiny told through the perspectives of a woman in 1969 Paris and present-day DJ. (10 p.m., Princess of Wales)
Also playing...
W.E. - Otherwise known as ,"That movie Madonna directed." (6:30 p.m., Roy Thomson Hall)
BUTTER - A film about competitive butter-carving. No, really. But starring Jennifer Garner, Hugh Jackman, Alicia Silverstone, Ty Burrell and Olivia Wilde, it doesn't sound too bad. (9:30 p.m. Roy Thompson Hall)
Notes from last night/afternoon:
YOUR SISTER'S SISTER is the kinda rom-com saviour we've been seeking. Sweet, sharp and smartly cast, especially since 90% of lines were improvised. You'll fall hard for Emily Blunt.
They play mass beachball before Midnight Madness screenings.
According to my research (a.k.a. Twitter) , LIVID (last night's MM pick) was wildly dividing. Some said it was boring (and it was for the first 20 minutes). Others said it was confusing (and it kind of was). Everyone found it to be visual production mind rip. To give you an idea of what I mean, there's literally a scene where someone's mind gets ripped in half. And it looks real as hell.
No matter how tired or frustrated you are with the length of the line to get into your movie, attempt to talk to the people around you. You never know what extra tickets they have stashed in their totes and how little they're willing to make you pay for them.