A daily documentation what's we've seen, want to see and aren't even trying to see at the 2011 Toronto International Film Festival.
SUNDAY SEPTEMBER 11, 2011
We're seeing:
Photo: Alliance Films

SHAME (Manori) - Michael Fassbender and Carey Mulligan play a sister and brother in this sexual drama. (7 p.m., Princess of Wales)
YOUR SISTER'S SISTER (Ava) - Things get awkward for a dude after he gets hot and heavy with his dead brother's ex's sister. Stars Emily Blunt, Mark Duplass and Rosemarie DeWitt. (6 p.m., Ryerson Theatre)
LIVID (Emily) - A french haunted house horror flick that's getting major buzz, and not just from the Midnight Madness crowd. (11:59 p.m., Ryerson Theatre)
We wish we were seeing: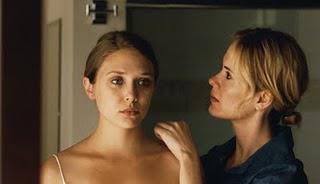 Photo: Fox Searchlight Pictures
MARTHA MARCY MAY MARLENE - A way buzzed-about drama about a girl who leaves a "sexual religious cult." The title character is played by the Olsen Twins' younger sister (!), Elizabeth. Apparently she's a revelation. (3 p.m., Ryerson Theatre)
Also playing...
ANONYMOUS - What if Shakespeare never actually wrote his plays? Or so, asks this period drama. (9 p.m., Visa Screening Room a.k.a the Elgin)
THE SKIN I LIVE IN - The latest from Pedro Almodóvar, based on the novel, Tarantula. Antonio Banderas plays a plastic surgeon who is working on a new type of fake skin and testing it all out on a young woman he keeps hostage in his house. Ick. (10 p.m., Princess of Wales)
Notes from last night:
DRIVE is frothy, frightening fun. See it, even if it's just for the wicked antithetical Pretty in Pink font. Also, can Ryan Gosling be any bigger right now? Watching this just makes you realize he deserves it in spades. And if that's not enough to sell you...
"The idea was that half the movie was a John Hughes movie ... and then he kills everybody." - Nicolas Windling Refn (director of Drive).
Albert Brooks has never seen Breaker High.
*
Sometimes, even the Filles have their non-movie magic moments. Seeing as we're based in Toronto and have attended the fest, we really should have started this sooner. But we were too busy seeing movies. Forgive us. Expect the next week to be full-fledged.