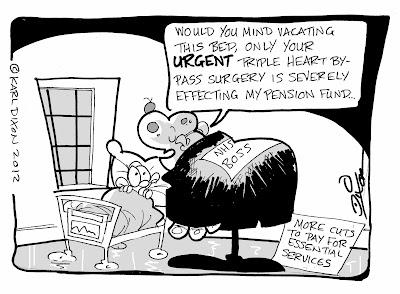 Click to view larger image
I really cannot believe that the NHS bosses are going for even more cuts in front-line services.
Every political party promises to save the NHS if you'll only vote them in, and every party chips away at its very core and foundation. And until there's a little box on the ballot form that votes them all out until they stop lying, I'm afraid your wonderful health service will continue to disappear while the friends the appoint to invented jobs with vastly inflated wages will continue to prosper.
I've been doing cartoons on these tax-fattened hyenas for years and not once has the government put two and two together and seen where the real wastage is in the NHS.
So once again, for all those hard of thinking MP's out there, here's the answer again: GET RID OF YOUR SURPLUS CHIEFS AND LET THE HIGHLY SKILLED INDIANS GET ON WITH THE JOB OF SAVING PEOPLE AND ALLEVIATING SUFFERING.
There, was that loud enough?
Good.
Did it get through your thick, back-hand taking, grubby little heads?
Didn't think so.
I'm not stupid. I know the government are aware of what they are doing so I will continue to highlight their evil, twisted and incompetent ways.
Cheers
By the way, if you are in need of books, DVD's, games, electrical goods and you're going to use Amazon to buy them, please click onto it through my site on the banner advert to your right; for every person that does I get a payment from Amazon, and if you order from that click then I get a commission on what you buy. It doesn't cost you a single penny extra but it does help fund this blog, enabling me to carry on giving you free cartoon advice and stories.
Please remember, every click you make helps me entertain you! Thank you