I don't normally write about crime on Fellowship of the Minds, unless the particular crime has political dimensions or implications.
While trawling for news on the Internet this morning, I came across this face. I physically recoiled upon seeing the image, as it is a face of such utter malice and cruelty (look at those eyes!), it reeks of evil.
Can you guess whose face it is?
*
*
*
How about this? Do you recognize him now?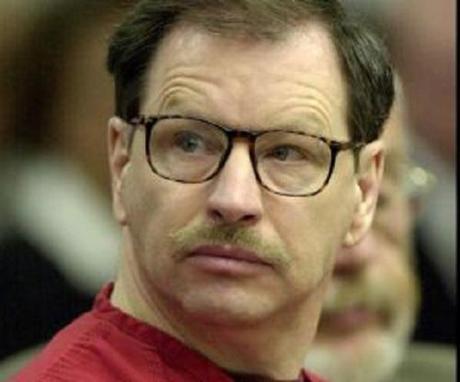 He is, of course, Gary Ridgway, the notorious Green River Killer, said to be the most prolific serial killer in American history.
During the 1980s and 1990s, Ridway murdered numerous females, most of them prostitutes and runaways, in the Seattle-Tacoma area of Washington State. The press gave the killer the Green River Killer nickname after the first five victims were found in the Green River. He strangled the women, usually with his arm but sometimes using ligatures. After strangling them, he would dump their bodies throughout forested and overgrown areas in King County, often returning to have sexual intercourse with the corpses.
In November 2003, Gary Ridgway was convicted of, and pled guilty to 49 charges of aggravated first degree murder as part of a plea bargain that would spare him execution in exchange for his cooperation in locating the remains of his victims and providing other details. He later confessed to nearly twice that number but steadfastly refused to speak to the media about his crimes.
Ten years after his conviction, Ridgway is in the news again.
Michael Harthorne reports for Seattle's KOMO News Radio, Sept. 16, 2013, that from his maximum-security unit at the prison in Walla Walla, Washington, where he is serving life without parole, Ridgway is now speaking to the media, specifically to reporter Charlie Harger.
Ridgway claims that the number of women he had killed is closer to 85 and says he's speaking out because he wants to help bring closure to the families of his unidentified victims.
Writing about the Nazi Holocaust, the late political theorist Hannah Arendt coined the expression, "The banality of evil," which is certain to live on, long after Arendt herself is forgotten.
The dictionary defines banality as commonplace, triteness, lacking in originality.
Harger said, "The strange thing about Gary Ridgway is if you didn't know the depravity, if you didn't know the evil that this man committed, you would have no clue when you talked on the phone with him. This man sounds like he would be a perfect neighbor." As Harger would later recall, it took a moment to realize he was speaking to the voice of evil.
He said Ridgway would talk about murders as if he was reading the phone book. He would describe a victim's head falling off her decomposing body like he's describing taking his dog for a walk. "He has no emotion about it," Harger said. "For him, it's like talking about what he had for dinner last night. There is no connection there."
Harger also says it's clear Ridgway continues to be deceptive: "Gary Ridgway is absolutely playing me; he's playing everybody when he talks. I don't think Gary Ridgway can even comprehend the truth."
Harger thinks Ridgway's true motivation for finally speaking out is an attempt to "up his count" — to make it look like he killed as many people as possible — a number he now puts as high as 85. I think he wants to show the world that, 'Here I am, Gary Ridgway, the truck painter from Kenworth, the guy who everybody thought was slow since elementary school, somebody who couldn't hold a candle to Ted Bundy. But, here I am, and I'm the best at something.'"
†

Evil not only can be banal, sometimes evil can even appear beautiful. St. Paul did warn us that "The Devil may appear in the vesture of the Angel of Light."
But age has a way of unmasking even the most banal or beautiful.
Born on Feb. 18, 1949, Ridgway was almost good-looking at age 33.
At age 54, when he was convicted of 49 murders, the bespectacled Ridgway looked banal, commonplace, unoriginal, and nondescript.
But like the Picture of Dorian Gray in the attic, the passage of time has a way of carving a person's face to match his/her soul. At age 62, Gary Ridgway's face has finally caught up with the blackness of his soul.
~Eowyn