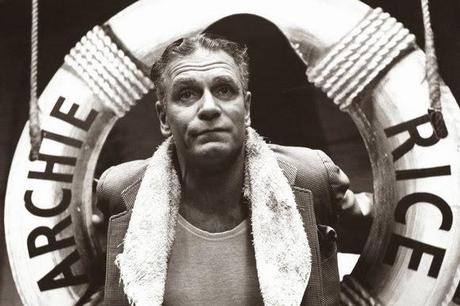 John Osborne's The Entertainer ranks among the best plays of its era. Where Osborne's Look Back in Anger is nigh-indigestible nastiness, The Entertainer blends acerbic language, pointed themes and inspired characterization. Having directed the stage version, Tony Richardson brings Entertainer onscreen intact, complete with Laurence Olivier's incredible performance.
Archie Rice (Laurence Olivier) is a musical hall comedian nearing the end. Beneath the bonhomie lies a caddish, self-loathing womanizer chronically in debt. Long-suffering wife Phoebe (Brenda de Banzie) seems about to crack under the strain. Daughter Jean (Joan Plowright), a teacher, struggles with her businessman boyfriend (Daniel Massey). Musician son Frank (Alan Bates) admits the family talent's "run thin"; Mick (Albert Finney) enlists in the Army, just in time for the Suez Crisis. Desperate, Archie turns to father Billy (Roger Livesey), suggesting the old man prepare a comeback.
Richardson adapts The Entertainer with remarkable ease. He complements Archie's decline with inspired visuals, from the decrepit Morecambe seaside to seedy clubs and bars. Cinematographer Oswald Morris beautifully complements Richardson's constructs with moody shadows and discrete dutch angles. John Addison's jazzy score plays in tinned, echoey reverbs, as if reflecting regretful memories.
Through the Rice family, Osborne crafts a beautiful metaphor for postwar England, its illusions dashed by austerity economics and imperial rot. Billy represents Old England, honorable but anachronistic, pining for past glory. Throughout Billy tries to help Archie, whether sabotaging a suitor or through his own comeback, but his interference makes things worse. The younger generation suffers for their folly: Mick quite literally, captured by Nasser's Egypt. But Frank can't match even Archie's modest talent, while Jean's useless boyfriend leaves her adrift.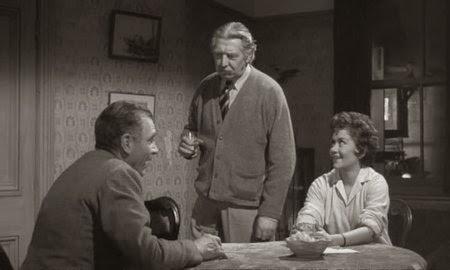 And Archie, a vaudevillian Anthony Eden, generates the decay. He builds a career off Billy's reputation, despite a marked lack of talent. He gloats over bilking the "taxman" until ill-judged transactions sink him. Osborne and co-writer Nigel Keane add a brilliant subplot, with Archie seducing a young heiress (Shirley Anne Field) to clear his debts. This sequence beautifully shows Archie's charm, deviousness and desperation in one. Worst of all, Archie knows he's a fraud yet plods along anyway, unconcerned with the damage left behind.
Laurence Olivier bravely channels his talent into unexpected avenues. Sporting ghastly makeup, singing off-key, shouting down an uncooperative orchestra, he's epically pathetic onstage. But Archie's even more pathetic with friends: Olivier maintains the patter and forced bonhomie, scarcely acknowledging Mick's fate, Phoebe's breakdown or Billy's desperation. When Olivier lets down the mask, his tired eyes and soft-spoken, halting delivery lay bare Archie's hollowness. It's an amazingly intricate, subtle performance, miles removed from Olivier's Shakespeare roles.
Another stage holdover, Joan Plowright (the future Mrs. Olivier) provides a lively, sympathetic Jean. Brenda de Banzie (Hobson's Choice) is tragically scatterbrained, while Roger Livesey (Colonel Blimp himself) is inspired casting as the honorable but antiquated Billy. And The Entertainer provides early roles for numerous coming actors: Albert Finney, Alan Bates (Royal Flash) and Daniel Massey (Mary Queen of Scots).
If nothing else, The Entertainer proves a textbook stage-to-screen adaptation: making the material cinematic while retaining its force. Osborne's other plays, from Anger to Inadmissible Evidence, don't survive the transition. But The Entertainer is "big" enough in style, themes and performances to make a satisfying film.