0 Flares
0 Flares
×
New to little Indiana? Subscribe for free to my RSS feed. Thanks for stopping by!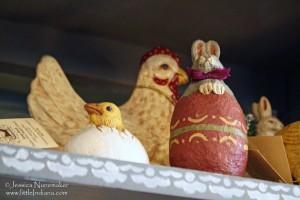 Enchanted Sleigh: Centerville, Indiana
You should know that The Enchanted Sleigh in Centerville, Indiana is not a Christmas shop.
The next thing you should know is that it is full of great gifts and home decor!
Centerville, Indiana: Enchanted Sleigh
It had been a long, very full trip. I admit, I was finding it harder and harder to hop out of the car each time to do my thing. We almost skipped The Enchanted Sleigh! That thought makes me cringe.
Because, well, when you step inside this Indiana gift shop? You will be so impressed! Shop owner Norma was such a lovely lady and pointed out some of her favorite original art pieces and one of a kinds. Our chat with her was just as fun as browsing through her shop!
She is the mother of a family of artists! Susan Brack, Rachel Sharp, and Connie Toschlog are her two daughters and a granddaughter. Although they each work in different mediums (paper mache, folk art, painting, and more) her daughters have each achieved recognition in various media publications. It is amazing!
For those of you that follow along in the art world, you may remember that Susan Brack didn't have formal training. As a stay at home mom, she started making art for friends, eventually growing her art into a business. Now her work has been featured in major books and magazines. Isn't that a wonderful story?
Indiana Antiques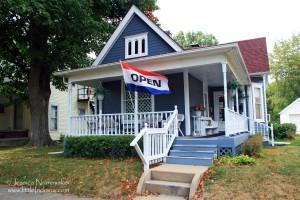 Enchanted Sleigh: Centerville, Indiana
There's so much here! Our boys were kept entertained by the very large, very sweet shelter rescued Maine Coon/Raggamuffin mix cat Bear. Rather, this friendly guy had all of our attention at one point or another.
But, vintage brooches were calling my name! The Enchanted sleigh has a whole lot of them. Apparently, some new thing that girls getting married are doing is to make bouquets of pins. I'd love to see what that looks like!
This Wayne County shop has plenty of traffic from brides-to-be on the hunt for pins–because she has so many! Yes, even I went home with, um, more than one or two. They are definitely priced right.
Go There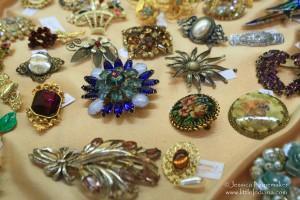 Enchanted Sleigh: Centerville, Indiana
The Enchanted Sleigh holds awesome Indiana antiques, vintage jewelry, paintings, home decor, collectibles, and so much more.
You will love this house turned shop–I know we did! You just can't beat a small Indiana town shop! This is little Indiana.
Find pictures in Indiana on my Flickr photostream or on the new little Indiana Tumblr blog.
Just don't forget to tell 'em that  little Indiana sent you!
The Enchanted Sleigh
410 East Main Street
Centerville, Indiana 47330
765.855.2567

View Larger Map
Don't miss a moment. Subscribe to little Indiana and receive instant updates to stay on top of everything "little."
little Indiana: Where to Stay, Play, and Eat in Small Towns in Indiana. Discovering Indiana's best small towns! Now get little Indiana on your Kindle.
Targeted. Relevant. Affordable! little Indiana advertising.