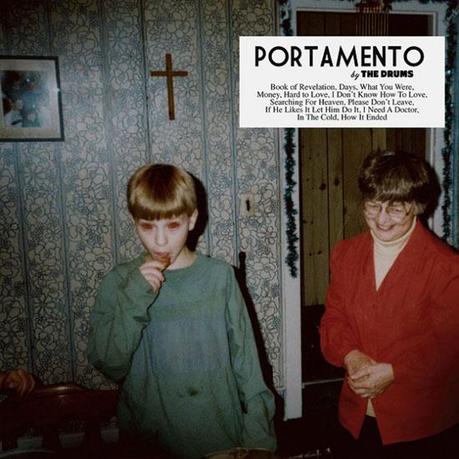 Money – The Drums
Following the success of their debut self-titled album, The Drums (@thedrumsforever) have taken their sophomore effort in a much darker direction. Written after guitarist Adam Kessler split from the band, Portamento reflects all the emotions a break up evokes, but the remaining members prove they're the better for it. Perhaps because their first album has long been classified as "surf pop", due in part to the reviews of the hit single "Let's Go Surfing," Jonathan Pierce and company have made sure Portamento will never have that problem. Influenced by bands such as Kraftwerk and The Wake, their latest effort drips with dark synths and even darker lyrics, but remains just as catchy and at times just as bright as The Drums.
Perhaps the catchiest song on the album, "Book of Revelations" starts Portamento off on the right foot. The chorus, "I've seen the world, and there's no heaven and there's no hell, and I believe that when we die we die, so let me love you tonight," conveys that this album is no picnic. Fast-paced and full of short guitar riffs, familiar clapping, and the ever present tambourine, you'll find yourself more uplifted by the instrumentation, though, than put down by the slightly depressing lyrics. The next track, "Days," features a gloomier guitar and more haunting vocals by Pierce lamenting on a lost love, a common theme found throughout the record.
"What You Were" immediately picks up the tempo, with a thumping bassline and a 50's styled jazz sound, it keeps a more optimistic feel, while Pierce's cries to, "hang on," are drowned out in the chaos of the chorus. Acapella backing vocals give a sweeping sense of whimsy to the tune, making it one of the brighter tracks on the album. "Money," the bouncing featured single, is brimming with moans and groans from Pierce, while the chorus is sure to get stuck in your head for days to follow. The biggest stand out of the record, and the most experimental, "Searching For Heaven" is an electronic track with aching vocals that remain endearing rather than painful to listen to. Fading to a close as Pierce questions, "will we dream again?" it is the most haunting and beautiful track Portamento has to offer.
Keeping in tune with the darker theme, "If He Likes It Let Him Do It" features ghostly, ambient noise and packs a punch with loud drums and a rising chorus. Maybe the best description would be "goth new wave punk," as it manages to be both angry and miserable, the perfect tune for any angsty teenager. The anger doesn't exactly end there, as "I Need A Doctor" features lyrics like, "you know I love, but I want to kill you," and "when you fell asleep I threw a tambourine at your face." Accompanied with a looping synth track and jangling guitar, this darkly humored tune is as easy to dance to as it is to sympathize with.
"How It Ended," the perfect track to the end the release, possesses a bright, near optimistic, melody as Pierce's voice relaxes into a softened croon fit for a lullaby. Lyrically, it deals again with break up, heartache, but ultimately, the growth that one can gain from both. It seems fitting that the romantically turbulent saga that is Portamento ends on such a peaceful note.