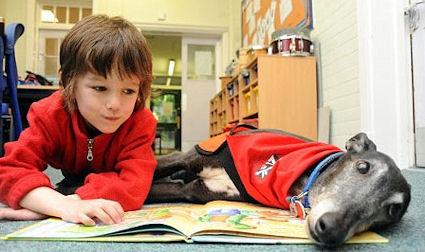 When children read to him, Danny does not criticise or correct their pronunciation. He just nods and pricks up an ear. Danny is a greyhound and a novel way of encouraging pupils at Oakhill primary school in Tamworth, Staffordshire, to read aloud. A 'listening dog', he is part of a scheme that originated in the US called Reading Education Assistance Dogs.
It helps with their self-esteem in reading out loud because he is non-judgmental
, says the dog's owner, Tony Nevett, who has a degree in animal-assisted therapy.
He doesn't judge them and he doesn't laugh at them. He's just a tool - the children don't realise they are reading, which they might not have the confidence to do in class.
Danny received five months of training to become a
Read Dog
.
The Presurfer