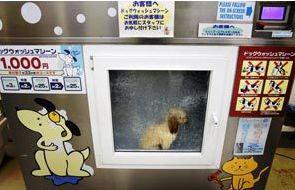 In Japan, everything comes and goes in vending machines–even a dog.
At Joyful Honda, a Tokyo superstore, a pooch can be popped into a dog-washing machine for a half-hour shampoo, rinse and blow dry. A rather subdued toy poodle was one of its early patrons, getting the full treatment for about $11.00.
This washing machine for dogs is proving to be a boon for pets in Japan who shun a traditional bath. The "dog wash" was designed in the US and gives pets an automatic drenching with warm water and a blow-dry. It is the offspring of a Spanish company that envisions its "Washamatic-Kan" in vets' offices, gas stations, shopping malls — wherever people and their pooches are found.
However, it may seem like a good idea in gadget-mad Japan, but in pet-friendly Britain, it is doubtful that the dog-washing machine will ever catch on. Compared with the usual petting and reassuring that's given to dogs when they're washed by humans, it can seem like an assault.
It doesn't even seem likely that it can be an effective way of doing the job. Normally, shampoo needs to be rubbed in, physically massaging debris and dirt out of a dog's coat. Maybe the next model will include rotating rubber arms to do this job…