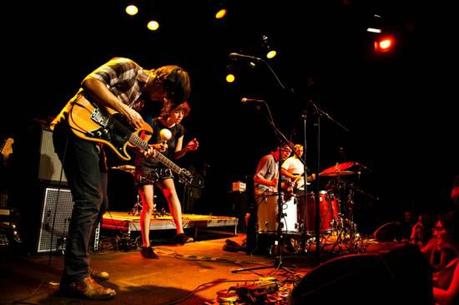 Everybody steps into a show with certain expectations.  He wants the music to remind him of a certain toe-tappin' time, and she wants to recall a fond certain somebody. Even if we don't often admit it, we all want the performance to mirror the CD from each riff to the final down beat. Usually, we audience members have to shrug and admit that these expectations are unrealistic. We are told to fork over our twelve dollars and just enjoy whatever is presented, however distorted or jumbled.
Well, on Monday at Music Hall of Williamsburg, The Luyas and The Dodos exceeded expectations.
The Luyas offer the kind of sound that can't help but invite you in. Suddenly, the ambient guitar and grooving beats float you back to a basement or a garage where you are sitting on a moldy couch, nodding and smiling along with your friends that make up the only local indie band. Jessie Stein, the Luyas' lead vocalist, is cute and sweet, making jokes and grinning through each transition. But don't be fooled. Her voice kicks ass. As she sang, she tapped the top of the keyboard to get sounds from parts of the instrument that wasn't meant to be played. The french horn player filled the room with orchestral emotion and sang into the horn's mic. The Luyas grooved right along, incorporating light shows to emphasize their complex rhythms and make it clear that they were friends and music is fun.
The Dodos also nodded and smiled their way onto stage, slipping happily into their familiar roles just as a content kid puts on a well-loved pair of sneakers. The Dodos are Meric Long and Logan Kroeber, but on Monday night, they had a third guitarist along for the ride. Kroeber brought the tight, powerful rhythm and backup vocals and Long echoed with his one-man loop pedal choir. Their set was a party of familiar tunes, with a few members of The Luyas poppin' in on occasion to join the festivities. Long alternated between acoustic and electric, belting his ironic lyrics, while Kroeber drove each ending home. The audience bobbed and swayed with the recognition of each song. Even the oldest kids in the crowd forgot their beer momentarily to nod through the best transitions. It was a night worth remembering.
Photo credit: David English

View Photo Album

View Photo Album