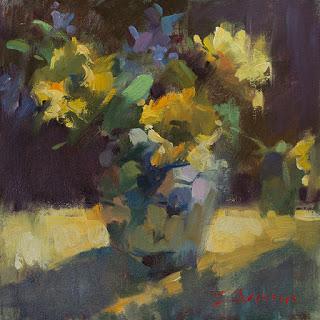 Sunbeam
12 x 12
Like all working artists, I'm a recluse, spending more time in the studio than anywhere else and seldom seeing people socially.  But I have my handy headset which, when connected to my phone, allows me to paint and chat with friends at the same time.  There are two benefits to this: I remember how to speak to people other than myself, and I paint without over thinking the process.
This little painting was done during a phone call.  I happened to notice that a sunbeam was tracking over my little vase of fake flowers and turning them from something ordinary into something very special.  The problem was that the beam was moving at amazing speed.  Luckily, I have a tall computer table on wheels in the studio, so I popped the vase on it, grabbed a linen panel, and began speed painting; all while talking about a friend's holiday and - hopefully - making sense.
I had to move the computer table every 10 minutes or so to recapture the light, and I didn't have much time for mixing or thinking, but it was a joyful, playful thing to do.  Painting that quickly forces you to avoid wasted movement and just makes you to get on with things: grab paint, smack it down; figure out where your impasto will be and get it on thickly and quickly; glance at colours and make snap judgements about what they are rather than stare and begin to doubt that first impression; and don't worry about details; just paint the big stuff.  
The phone call added the extra complexity of divided attention.  I couldn't stop and ponder if that yellow mixture was too bright, or figure out how to modulate the dark background, or count the number of leaves that I was seeing; my rational mind was occupied with foreign lands and adventures (not my own, sadly).
When the sun's angle was totally different than what I started with, I stopped painting.  We were done our phone call, anyway, and I knew that if I continued working, I'd have slowed down, begun to tweak, and totally lost the freshness of the piece.  Knowing when to stop is the most important part of the process, and it's often much sooner than you'd think.
Happy painting!