Some children can't wait to get involved in the Queen's Jubilee celebrations, but others might be a little more reticent. Whether it's the thought of mixing with a lot of other people can be intimidation, or maybe they just don't understand what the Diamond Jubilee is about. This is a great time to give your kids a bit of an insight into the past, and to have fun on the way.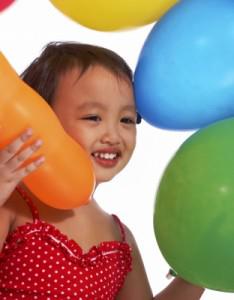 Credit
Dressing up
Kids love to dress up, trying on grown ups clothes and accessories. Because it has been 60 years since the Queen has been in power, it's a great chance to show children how people dressed back in the early 1950s. Women always had immaculate make up, often with a smart skirt and jacket. Alternatively floral pinnies and head scarves will look really cute on your little girl.
For boys, get them into their smart suit that can be finished off with a broad brimmed hat; these can be found fairly affordable for children at your local costume shop. Draw on a pencil moustache for added cuteness! You can also get them to dress for other fancy dress themes, such as members of the Royal Family. There's a lot you can choose from when it comes to the Jubilee.
Baking cakes
Making party food is often the best way to get your children involved in any celebration. From making the cake mix to decorating, kids can get really into baking. Look at the different cakes and biscuits you can make with the kids. From cupcakes to gingerbread men, you can decorate these in bright red, white and blue colours!
You can also make a nice, big Victoria sponge, the perfect teatime treat for your Jubilee theme party. This will give them far more room to decorate and get quite carried away with the cake; especially with accessories that you can pick up at the present time gifts shops. You can find everything from Union Flag cake transfers to mini stand ups of the royals! There's lots of fun to be had with sweets and cakes.
Party decorations
Another way to get children to enjoy any celebration is to get them to help you with decorating walls. What could be more fun than getting the kids to make their own bunting, which is perfectly suited to the Jubilee celebrations. You can buy great bunting kits, or make each triangular flag from old bedsheets and clothes. If you do suggest it, make sure they know exactly what they can make bunting from first!
By getting the kids involved in the Queen's Diamond Jubilee celebrations they're sure to enjoy it even more!
TCH has a great collection of present time gifts and Diamond Jubilee accessories.