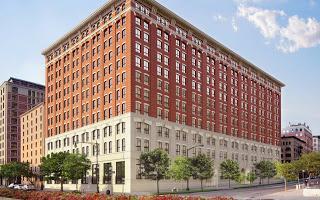 Inside this unassuming building in Tribeca, an industrial turned residential conversion contains three  show stopping apartments, each a collaboration of a designer with a shelter magazine, sharing the same vision or design aesthetic.  These apartments share other things as well; subtle marble clad spa like bathrooms, Poggenpohl kitchens, Ann Sacks tile, and dark wide oak wood floors and spectacular views.
Each designer imagined a fantasy client for whom they designed.
House Beautiful and David Rockwell ~
David's imaginary clients were a Bohemian, chic couple whose passion for art and design informed their collected interior design.  Refined, rough, tactile, layered.  Mid century furniture resides comfortably with an array of pottery and textiles.  The classic and avant-gard happily co exist.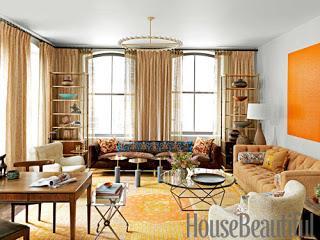 The hand crafted tile in this kitchen, reminiscent of Delft pottery, created consistency in the open space by bringing together the look of handmade and modern that we see across the room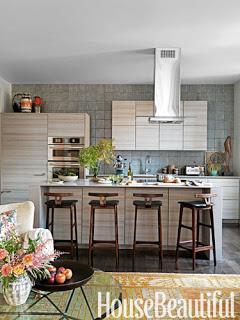 There was a great melange of elements in the den that definitely was in keeping with the Bohemian vibe that Rockwell set forth to create.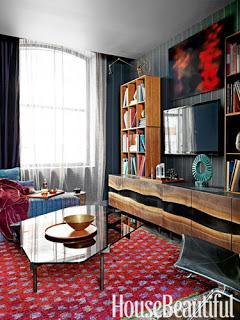 A take away might be the cork flooring panels applied to the walls in the studio.  Form and function once again prevail ~ and look good doing it.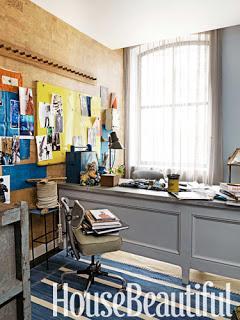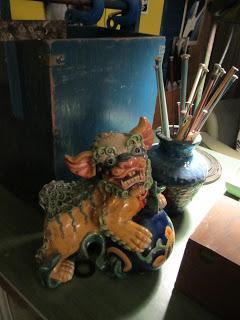 CLI
The choice of the Byzantine wallpaper and Ikat upholstered headboard may be strong for some but this was evocative of the couple's creative spirit, travels, and pedigree.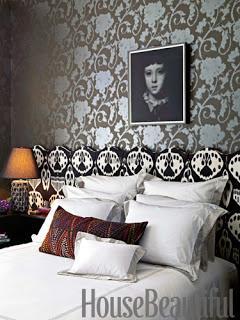 Elle Decor and Matthew Patrick Smyth ~
Matthew imagined his couple as jet setters with a refined sensibility; globetrotters whose interiors display treasures from around the world.  A ride on the Orient Express was the jumping off point.  Deep colors and bold patterns create an exotic and classic dwelling.  Matthew had a lot of tricks up his sleeve to personalize the sterile apartment.
The moody gray walls were a perfect backdrop to showcase the artfully designed living room.  There was a surprise around every corner.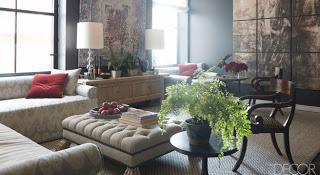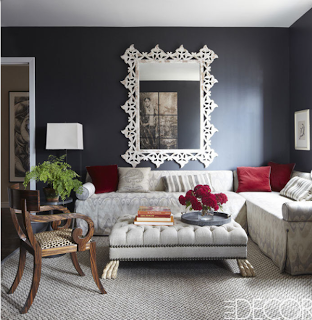 The showstopper was this extra room that was turned into a dynamic dining room.  It has no windows, no view, and was the first room off the entry, but no matter.  Schumacher wallpaper was carefully cut and patiently applied to mimic that of tile work in Moorish architecture.  The capiz shell and crystal chandelier, antique table and velvet chairs produced a visual feast for the eyes.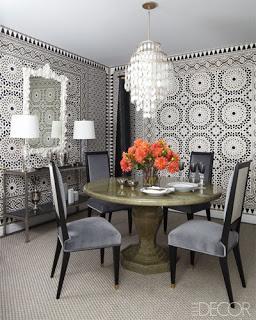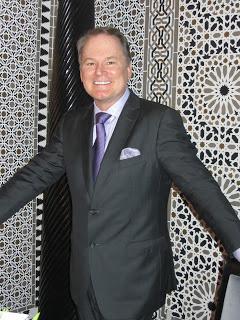 I liked that the kitchen was kept quiet.  This was not the place to make a bold statement.  Subtle silver, crackle subway tiles accented the contemporary wood cabinets beautifully.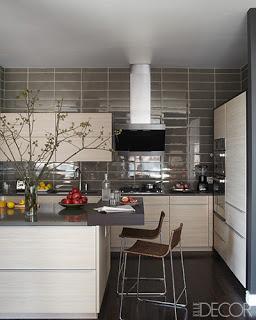 These new apartment conversions very often lack interior architecture.  Matthew added his own.  He brought in this elaborate antique door frame to act as a dramatic headboard for a simple metal bed.  He inserted a mirror, added a picture, and WOW!  Everything else in the room became a supporting cast member.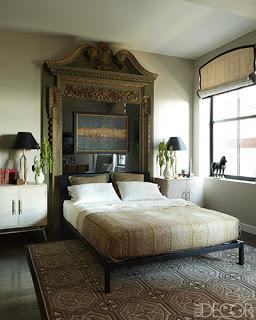 Another trick I am dying to try is the floating bookshelf.  A frame is created and in this case the center was papered, but I have also seen them upholstered.  The customized floating shelves artfully displaying accessories do not become the focal point, but an integral part of this whole design element.  I love it!Once a steel drum, the desk base with the burlap top was customized by The Alpha Workshop.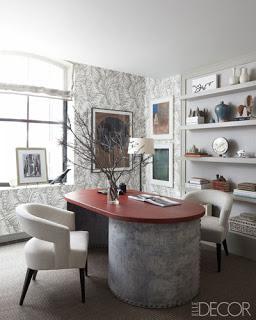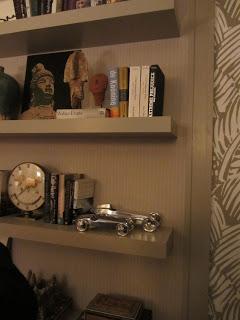 CLI
Veranda and Anthony Todd ~
A philanthropic, cosmopolitan family of 3 wanting to live in a casually elegant space was Anthony's fictitious family of choice.   Todd filled the apartment with blocks of color to produce the intended effect and showcase the duality of the family's imagined life, which is in keeping with Todd's philosophy of creating timeless, sophisticated environments.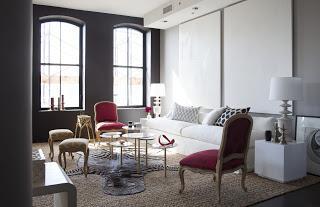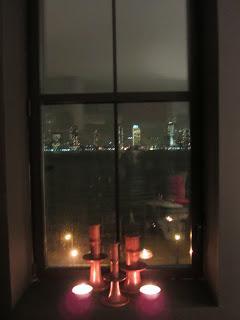 CLI
The application of the Ann Sacks mirrored subway tiles was exciting to see because I chose them for a client's butler's pantry.  Let's just say...beyond stunning.  Pops of pink and the combining of pieces spanning several centuries make the room as casual as it is formal.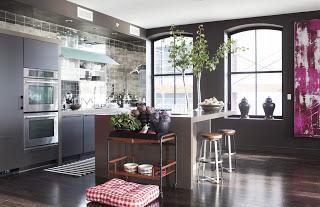 A lot of texture but little pattern make the den a relaxing spot.  Accented with Turkish and Asian textiles and a contemporary canvas, you could easily idle the hours away.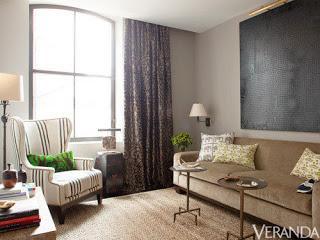 The soothing silver of the walls makes for one calm retreat... Nothing should interfere with a view.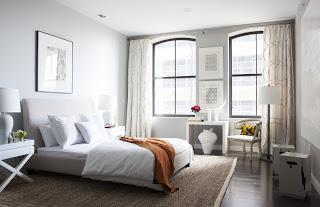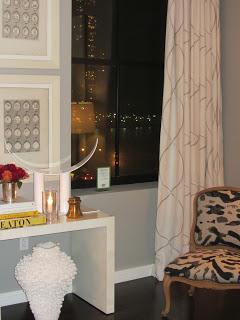 Benjamin Moore's Blue Danube paint color wrapped 2 walls in the boy's room with sophistication and warmth:  a nice teenage twist.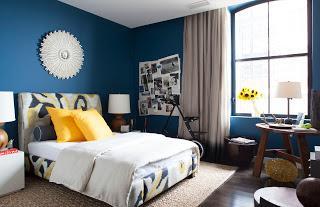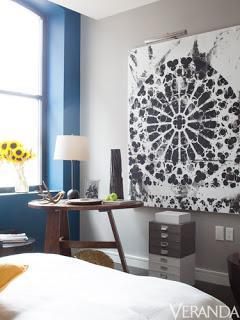 BUT that's not all  ~  Hearst's Designer Visions Show House in conjunction with The 48 Hour Film Project,  invited 2 film makers for each apartment to use as a movie set for a film they had to write, produce, shoot, and edit, all in 48 hours; a daunting task!
Click on the names of the magazines, if your interested, to watch the short films ~ or you can cut to the chase and just watch my favorites.  Brought to you by Veranda's sponsored apartment and Anthony Todd designs:
The Toast and Mr. Freckles (Grap a tissue)
AND if that's not enough Derring Hall, the on line marketplace for fine design and products, is selling items similar to those in the showcase apartments.
ph: courtesy of each magazine, unless otherwise noted