Title: The Day Human 
Trilogy
Author: B. Kristen McMichaels
Genre: YA Paranormal Romance
Hosted by:

Lady Amber's Tours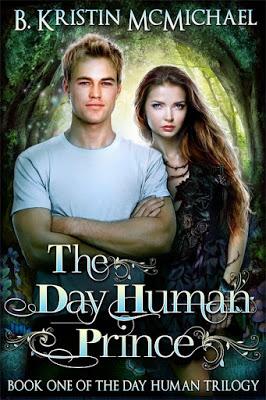 Blurb:
Devin Alexander grew up as the only day human in a world surrounded by night humans who drank blood, sometimes his blood. He spent his life training toward one goal: the protection of one of those blood drinkers, Arianna Grace. But what is he supposed to do when the blue-eyed girl of the legends doesn't need him anymore? What does his life mean then? How is a guy supposed to move on when the girl he has yearned over for a decade has chosen someone else?
Before he can even start to figure out his new life without Arianna, Devin has to deal with another problem. He needs to take care of some unfinished business with a night human he has known for less than a month, but with whom he is magically bound.
Vanessa McKinny has promised that she knows a way to undo the spell she placed on Devin to save his life. Devin would do anything to break the bond to be free of her, even if it means traveling to the sidhe village, a place inhabited by a race of night humans that has not had a day human visitor in more than a hundred years. If he doesn't want to get stuck, he must work with Nessa to find a way to break the bond. Only then can Devin have time to get back to finding his new goal in life, unless he discovers that his path lies with the sidhe.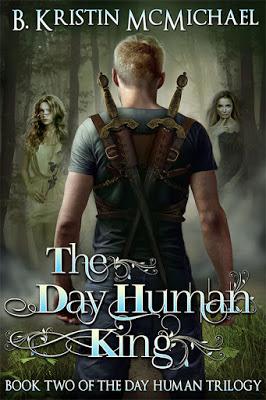 Blurb:
Book Two of The Day Human Trilogy
Book Five in The Night Human World
An expansion of The Blue Eyes Trilogy
After he inherited the power of the late sidhe king, Devin thought the battle to protect Nessa and proceed with her coronation was over. Everyone feared him, and he had the power to do anything in the sidhe world. He was wrong. As problem after problem arises, Nessa and Devin discover that the path to the throne isn't as simple as they thought. Formalities must be adhered to, preparations must be made, and between all of that, Devin and Nessa must decide what to do with an obviously pregnant Fiona, who won't name the father of her child. To make matters worse, the elite sidhe are still assassinating each other. No one in the palace is safe. Who is behind the latest deaths, and can the coronation actually occur with all of the drama going on? Devin and Nessa's road to power might be cut short if they can't find the answers.

Blurb:
Book Three of The Day Human Trilogy
Book Six in The Night Human World
Devin thought his stay with the sidhe would be short. That soon changed when he found out that he loved Nessa, but love just might not be enough. She has other suitors, and Devin isn't sure if he wants to go through that again. Too bad for him, suitors are the least of his problems. On the eve of Nessa's coronation, Devin finds himself framed for using magic he doesn't possess. With his sidhe powers he's the only one who knows that the magic harming people around Nessa comes not from nature, but from the witches. Good thing Devin knows a witch or two himself, but will it be in time to save everything and get Nessa on the throne?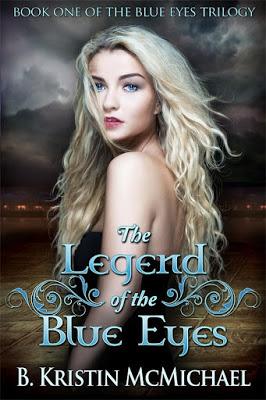 Blurb:

Arianna Grace liked her boring, Midwestern, teenage life where she ignored the many unanswered questions of her childhood. Why were her parents dead? Why did she not have family? Where was she raised until she was five? When someone offers to explain it all, Arianna thinks she's just getting answers. Instead, she is thrown into a world of night humans who drink blood.
On Arianna's sixteenth birthday, her world is thrown upside down when she changes into a vampire. Night humans, or demons, as some call them, live in normal society. Learning all of the new rules of a world she didn't know existed might be hard enough, but it's further complicated by two former-friends that now want to help her take her role as the successor to her grandfather.
There is a war going on between the night humans. Sides have been taken and lines are not crossed. Four main clans of night humans are struggling for control of the night. Divided into two sides, clans Baku and Tengu have been at war for centuries with the clans Dearg-dul and Lycan. That is, until Arianna Grace finds out the truth; she's the bridge of peace between the two sides. But not everyone wants peace. With the night humans divided, Arianna is now a pawn in the war between them. She must choose a side—her mother's family or her father's—and for once in her life, decide her own fate.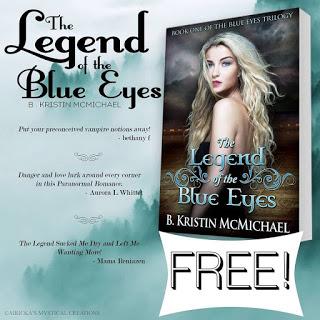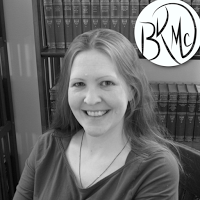 B. Kristin McMichael is the author of YA and clean NA paranormal fiction. Her vampiric "Night Human World" includes the YA coming of age series "The Blue Eyes Trilogy" and the spin-off adventure series "The Day Human Trilogy". She's also the author of the NA time travel romance series "The Chalcedony Chronicles".
The Blue Eyes Trilogy: http://bkmc.me/LegendoftheBlueEyes
The Day Human Trilogy: http://bkmc.me/DayHumanPrince
The Chalcedony Chronicles: http://bkmc.me/Book1Carnelian
For more information on all of her books, visit http://www.bkristinmcmichael.com
Subscribe to her mailing list for new release notifications and deals: http://www.bkristinmcmichael.com/list
B. Kristin graduated with her PhD in biology at Ohio State where she worked as a scientist before taking her passion of writing full-time. Besides writing, she enjoys chasing her kids, playing outside, and baking cookies.
B. Kristin McMichael lives in Ohio with her husband and three children.
Buy Links:
The Legend of the Blue Eyes (FREE)
(Book One in the Night Human World introduces Devin.)
http://www.amazon.com/Legend-Blue-Eyes-Trilogy-Book-ebook/dp/B00BQPVFNY/ref=asap_bc?ie=UTF8
http://www.barnesandnoble.com/w/the-legend-of-the-blue-eyes-b-kristin-mcmichael/1114798149?ean=2940016324333
https://itunes.apple.com/us/book/the-legend-of-the-blue-eyes/id624992606?mt=11
https://store.kobobooks.com/en-US/ebook/the-legend-of-the-blue-eyes
The Day Human Trilogy is books 4-6 in The Night Human World. They can be read as a standalone, or after meeting Devin in the Blue Eyes Trilogy.
The Day Human Prince
http://www.amazon.com/Day-Human-Prince-Kristin-McMichael-ebook/dp/B00JL2H3IA/ref=asap_bc?ie=UTF8
http://www.barnesandnoble.com/w/the-day-human-prince-b-kristin-mcmichael/1119166515?ean=9780989121897
https://itunes.apple.com/us/book/the-day-human-prince/id860158071?mt=11
https://store.kobobooks.com/en-US/ebook/the-day-human-prince
The Day Human King
http://www.amazon.com/Day-Human-King-Kristin-McMichael-ebook/dp/B00O66O9HO/ref=asap_bc?ie=UTF8
http://www.barnesandnoble.com/w/the-day-human-king-b-kristin-mcmichael/1120456373?ean=9781941745977
https://itunes.apple.com/us/book/the-day-human-king/id926234662?mt=11
https://store.kobobooks.com/en-US/ebook/the-day-human-king
The Day Human Way
http://www.amazon.com/Day-Human-Way-Kristin-McMichael-ebook/dp/B00Z754RUM/ref=asap_bc?ie=UTF8
http://www.barnesandnoble.com/w/the-day-human-way-b-kristin-mcmichael/1122405277?ean=2940150941878
https://itunes.apple.com/us/book/the-day-human-way/id1021329659?mt=11
https://store.kobobooks.com/en-US/ebook/the-day-human-way


Excerpt from The Day Human Prince
Nessa pulled back in horror at what she had just done. She had drunk blood from a living day human. She had never in her life fed on a live human before. It was completely different than drinking blood from a cup. It was warmer, fresher. It tasted much better. However, she wasn't willing to admit that to Devin. As she pulled back and savored the new taste, she was still wrapped in Devin's arms. He was studying her intently, and she blushed from the proximity. Everything about drinking his blood was different. Drinking blood from a human was much more intimate than she'd ever imagined.
Devin didn't let go of her right away. He stared at her, analyzed her, and the gleam in his eyes were unnerving. He wasn't scared of her, or the fact that she'd just bit him and drained some of his blood. In fact, he was concerned about her. Nessa wanted to wiggle away, but there was nowhere to go. She glanced back at him, and found that he'd let her go far enough back that he could examine the wound.
Once he was sure she was fine, Devin slid across the middle of the car, over to his seat. He started up the engine and backed up in the parking lot, backing up further than he needed to go. He paused, peering out of Nessa's window at the wayside bench. The shadow he had described was still there. Devin stared across the sparsely-lit parking lot at the assassin, and it was as if he didn't just see the shadow, but the actual person. When Nessa looked out and didn't see anything, she turned back to Devin.
The marks from her teeth slowly faded from his neck, and she felt them appear on her own. The bonding had made it so that his wounds would transfer to her since she had the ability to instantly heal when properly fed. As quickly as they appeared on her, they were gone. She had the stronger blood of the two of them, but as he gave a nod to the invisible foe, she would never admit it to him. Something about the nod he gave to the unseen assassin told her she wasn't the stronger one of the pair. Devin Alexander was an amazing day human and so different than she ever imagined.