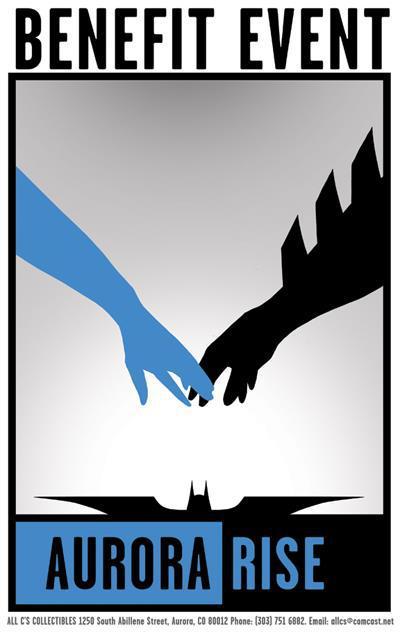 We are all aware of the intense event that happened a few weeks ago in Aurora. The only comic store owner in the area, Jeff Farnsworth has lit the bat signal and is sending out word that Aurora Rises! His Aurora Rises charity event held on August 25 and 26 will accept donations and aid for the victims and their families.
Batman and the comic book industry have been involved with helping causes in the past. Check out Batman Fights More Than Evil. He's Now Fundraising. The comic book industry will again respond to recent events with Publishers and Artists making appearences and donating art to raise money. Online auctions will be held on August 25 and 26 for those not in the area.
The scope of the donations has expanded over the past couple of weeks to also include sculptures, posters, T-shirts and a guitar from The Zac Band. The response to this idea has been so popular that Aurora Rises events are now being planned in other cities in the nation and abroad.
If you would like to help you can donate to the Aurora shooting victims or contact us for fundraising ideas.
If you are a comic book collector or just all around geek, plan on checking this event out. It's for a great cause and help Aurora Rise!
Lets finish this post with a fun Batman related video.

tiwtter @justfundraising
FB justfundraising page