TAKEAWAY: It's the first newspaper entirely created for the iPad and this week The Daily turns one. Like one year olds, it's starting to walk, has teething pains and not talking much to me yet.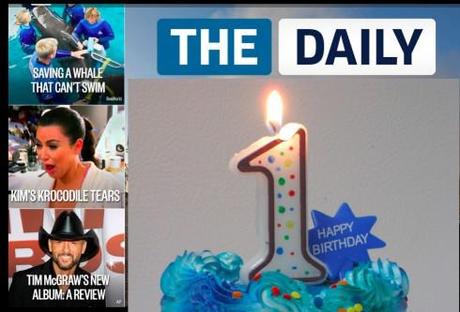 Just about a year ago I bought myself a pair of Asics running shoes, the white and blue ones.  Somehow, these shoes are NOT my favorite to take out on a run, although I occasionally give them a try, go out for a jog with them, and return them to the closet.
Call it a neutral, not very warm relationship.  I would not take those specific Asics on a race where I wanted to score a personal best.
About the same week I got those Asics, in February 2010, The Daily came out.
This week, the first newspaper entirely created for the iPad, is turning one year old.
Happily, it is still here.
It is so much better than it was that second day of February 2011 when it first appeared, looking like a copy of the chatty New York Post microwaved and tabletized, then crossed over with copies of People and US Magazines.
Still, I paid for a trial subscription, and eventually took the self-renewable yearly subscription for $39.99.
A tough habit to cultivate?
Like with my Asics running shoes, I have not gotten fully accustomed to The Daily.
Not that it is not appealing visually.  Not that the big tabloidy headline on the landing page does not grab you by the neck and pulls you in.  But somehow The Daily has not managed to capture my "habit".
It is all about habits with what we choose to read daily, especially for our news fix.
I confess that I forget that I have the subscription to The Daily, then I return and sample an issue, and always love that carrousel navigator, and maybe turn to the Apps & Tech section, and, indeed, see the photo gallery in the Gossip section. That is that. Three minutes max for me, and that may be enough for a week or two or three.
I have seen improvement in The Daily that turns one this week.  The finger has more to do than in those early editions.  Videos appear more often.  Pop ups are considerably more frequent and interesting, especially when they take a photo and decide to give you two or three mini stories based on that one photo.
The Daily crew knows what its audience wants. It is obvious that they are learning how to make the tablet newspaper more "tablet friendly".
Highlights to me are:
The Daily Briefing—a well designed table of contents that offers the editor's choice of the best in that day's edition
The headlines—there must be a Brit or an Australian behind some of those memorable headlines, like today's Deja Newt! or Cruising for a Bruising (about FBI files that tell of brutal attacks on the high seas)
The animated graphics——although not enough yet!
The tap to zoom feature on photos—-Lately shoes have played a role, as when the Australian Prime Minister Julia Gillard lost her shoe as police swept her away from angry protesters , or when Rob Gronkowski injured his ankle.
The interactivity—-We are invited to participate in polls, or just the simple question of the day. Users of the tablet WANT to participate.
The ads—-if there is one thing The Daily has done uniquely well from the start is in the presentation of advertising, the creation of the "advertising suites" and how the ads weave into the fabric of the app so well that they are not the type of nuisance we wish to eliminate from the screen, as happens in other news apps.
Yet, like with my Asics running shoes, I can't seem to get used to The Daily.
The Daily and my Asics are not getting to be a habit with me. 
If I remember that my iPad has a fresh The Daily edition waiting, I may turn to it.
But I don' t seek it. I don't miss it. I don't need it.
Attracting more users a must
Obviously, it has become a habit for many.  When The Daily first appeared, Rupert Murdoch said would take 500,000 subscribers to make it "viable." It has a ways to go before hitting that. 
According to publisher Greg Clayman, The Daily has 250,000 monthly readers and 100,000 paid subscribers. Not bad, but it needs to keep working to become the necessary, memorable news app that will become a daily habit with another 200,000 potential users.
Here's how The Daily could become part of my daily routine:
Name a pop up editor and take a look at the way Germany's Bild let us have so much fun with sports and celebrity pop ups that keep the fingers happy too.
Give that Opinion section a more interactive, multi sensory role. Let me hear some of the columnists' voices, and make those Bullet points less "print like" and more suitable for the tablet
Decide whether you wish to be a tabloid, irreverent newspaper app or a middle of the road, somewhat serious publication with emphasis on gossip and celebrity. I"d vote for fun and irreverent, as there is enough of the other.

I have not given up on those white and blue Asics in my closet.  I feel the same way about The Daily.
So, happy first birthday to The Daily, and many more.
TheMarioBlog post #938