TAKEAWAY: The Daily has made some favorable improvements since its January 2011 premiere. We have a chance to revisit it.
A newly revamped The Daily: Four (of 5) Stars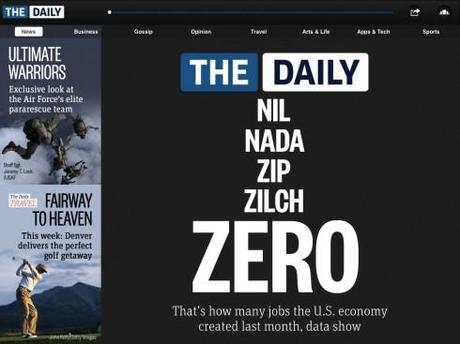 Opening page of this weekend's The Daily, with some new design features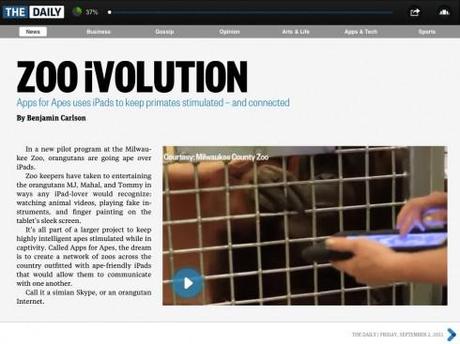 More videos and pop up moments appear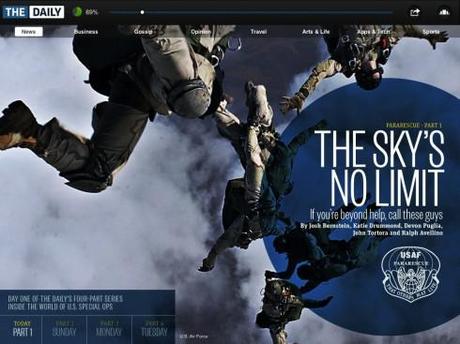 Here is opening of special series on the Air Force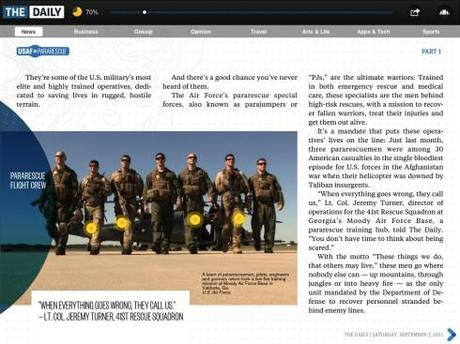 Tap photo and mini story will appear, see below
Mini stories upon click of photo, a great feature to enhance storytelling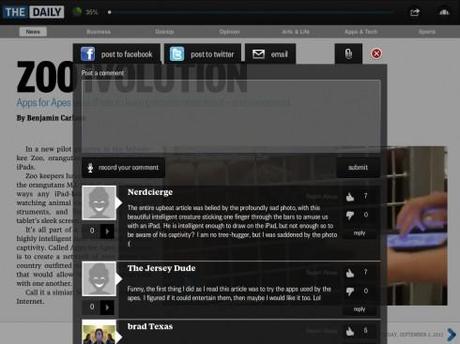 It is easy to share stories through Facebook, Twitter, email; a nice feature, instant commentary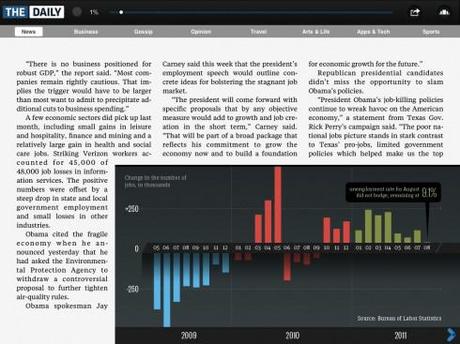 Graphics are animated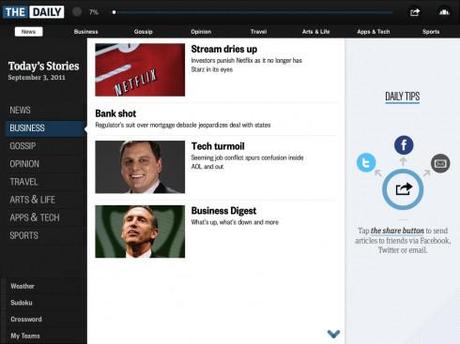 This is the new table of contents page, which replaced the more visual carrousel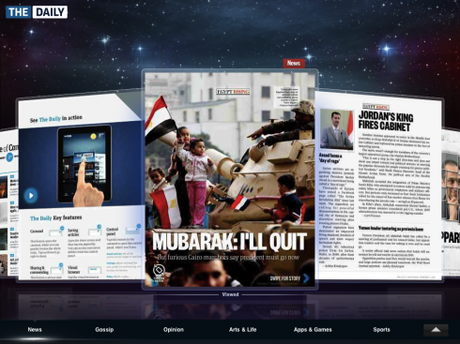 This was the original carrousel navigator, now eliminated: why?

We first discussed The Daily , the so called first newspaper created specifically for the iPad when it premiered in January of this year.  We were not so impressed by it at the time, except for that visual carrousel navigator, and, what to me represents the best newspaper advertising in a tablet.
Now, almost 9 months later, we have decided to revisit The Daily .
This 2.5 version is so much better, and closer to what a news app should be like.
There is still a bit of content schizophrenia here: does it want to be serious and authoritative, or does it prefer to wear the more heavily mascaraed look of its sister publication, the New York Post.
Indeed, any publication that includes Gossip as a category and part of its content navigator wants to be the bad girl in the party.
That aside, I like a lot of what I see in this newly revised version of The Daily .
The finger seems to be happier here too, with graphics that move, photos that allow for click and read (as in the case of mini stories in today's series about those star parachuters in the Air Force.
There is more video, more interactivity, and the ads are still primo material worthy of a second or third look by anyone working with their advertising departments to bring true-tablet ads to the iPad.
But, whatever happened to that gloriously visual carrousel with the big images?
That was nice and innovative, and intuitive, easy on the eyes, the brain and the finger.
Why did it go away and turned into a more mundane table of contents summary?
Does anyone know?
Did focus groups kill this wonderful feature. I hope not.
Kudos to The Daily for evolving and getting much closer to what an effective, visually appealing and finger seductive news app should be.
For those debating that hot topic—-scrolling versus swiping—-there is only one scroll feature that I have discovered in The Daily (the summary, table of contents), and everything else is swipe mode. 
The shape of things preferred.
TheMarioBlog post #847