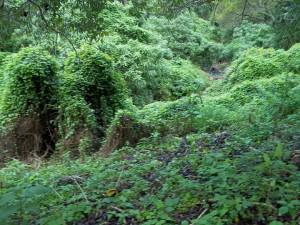 Aussie Fact:  If you visit this country you will probably get a jabbing about "drop bears".  Be wary of the drop bear, it is a vicious carnivorous koala bear that drops from trees.  You don't want to be under one it that happens, but if you are, please let me know.  I want to record the first case.  Drop bears aren't real.  It's just another way that Aussies like to poke fun at outsiders!
So my first week at Gateway Retreat is coming to a close.  I'm eager to take advantage of the next two days.  My body welcomes a little time to recover.  I'll explain why soon  So, Linda runs Gateway Retreat.  She has been leaving daily to attend classes that are close to Brisbane.  We are in Upper Brookfield, about 19/km away.  On the Monday of my arrival I was given a tour and a brief description of the work that needs to be done.  There is a creek that divides the the Retreat from a neighbor.  Along the ground that slopes to the creek plants have been placed in the dirt.  These plants are a particular species native to a rain forest.  Linda's objective is to rejuvenate the absent rain forest trees.  She has found out what the original flora was by speaking with locals who have lived in the area long enough to know.  The trees along the creek have become covered with weeds and vines and they need to be cleared.  If you make a circle with your arms, that is the diameter of weed-free soil that needs to surround each plant.  Linda continued to explain as we walked on.  As we continued she pointed out what needed to be cleared, certain vines and a particular shoot type of weed that has a spout.  "It is difficult to remove."  As we walked up the slope I was shown an area that I was to plant coffea.  As we continued the grass became thicker and was over my knees.  Apparently there is a path but I didn't see one.  I had no notion of where we were supposed to walk.  I just followed Linda as we made our way through the dense shrub.  "There's a path here.  Do you see it?"  I had seen maps on the internet of the Retreat.  A path had looped around the compound.  What I had envisioned in my mind was a clear and visible path.  What was reality was in fact the opposite.  I soon realized that this was not a functional retreat that needed upkeep.  I would not be doing pruning or weeding or regular upkeep maintenance.  Oh no, my work would be much more involved.  I was going to be assisting in its creation.  As I looked at the foliage I began to shrink.  My eyes wandered from one overgrown canopy of leaves to the next.  The forest was alive and it was well.  I had my work cut out for me.
Linda asked if Manuel, a German who was leaving the next day, and I would be alright for the rest of that day.  Soon she had left and Manuel and I began pulling weeds.  We started on the slope along the creek.  That was the easiest place to start.  The ground was a bit wet from a light rain from the previous night.  As we started to get into the rhythm of pulling weeds my face began to feel a mist.  Before long the clouds had blanketed the sky in gray and a continuous drizzle of rain was falling.  Just as Manuel and I went inside to wait out the rain it stopped.  We put our gloves back on and returned to our weeding work.  Mockingly the sky began to rain again.  Within minutes we were soaked.  We continued this routine of going inside and coming back out four times.  Finally we succumbed to defeat.  Manuel had been here a week prior to me.  The next morning he left.  That was the end of our partnership.  I was on my own.