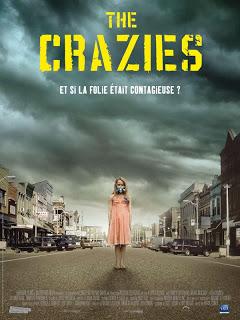 This a film which challenges an idea that could really happen, especially as we become more dependent on a clean sufficient water supply and ecosystem.



Directed by Breck EisnerCast: Timothy Olyphant, Radha Mitchell and Danielle Pannabaker











Plot
The film follows the story of a sheriff named Dave (Timothy Olyphant) and his wife, Judy; (Radha Mitchell)as they attempt to escape their home - a small town in Iowa - now plagued with infected residents known as 'crazies'. Who is to blame for this mess and will they survive seem to be the two main questions within this film.



Acting



I felt that the supporting role from Mrs Mitchell, had alot more life and was actually more entertaining to watch than Mr Olyphant. His presence was not felt as strongly throughout the film and her performance, in my own opinion, is seemingly more memorable. Equally, I think that huge accreditation should be payed to the efforts of the characters who played the townsfolk; they all gave chilling performances and helped enhance that feeling that these people are completely stark raving mad.

Good Points
I enjoy any film that speculates on our eventual demise, especially one where we are the cause of the problem. This films narrative builds suspense whilst also offering ample character development.
From nuclear explosions to gory blood spatters, this film brings a great sense of realism and grit in terms of special effects. They are all real and cleverly positioned to have the mass amount of impact whilst not turning the film into a slasher movie.
You can buy this Blu-Ray right here with Amazon:



Point for improvement



I would have personally liked greater development into the cause of the infection. I know they had a quick explanation at the end but I still feel that a subplot out side of the town could have been created to give the film greater depth.

Summary 
All in all then I would say the film definitely lives up to its name. It creates tension really well, with strong acting and great chemistry on screen. Although the narrative does feel somewhat lack luster, the thrills are there and I would say that this is an admirable end of the world survival horror flick.
Preacher's note
Thanks for reading and watching and for more film content why not head on over to YouTube, where I am currently searching for the best user created short films to advertise and review on my channel.