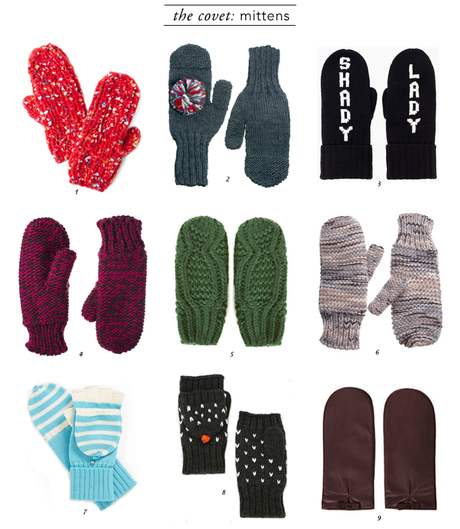 Judging by the size of

my mitten collection

, I have quite a addiction fondness for them. They're just so much warmer and happier than gloves to me. I'm not purchasing any more at the moment since I have close to 20 pairs but that doesn't mean I'm not still tempted and these styles have caught my eye. Do you wear mittens? Which pair would you pick?
1. Snowball Belle Mittens ($34.99) 2. People Tree Gray Pom Pom Mittens ($23.15) 3. Kate Spade NY Shady Lady Mittens ($47.60) 4. Pieces Erna Mittens ($12.96) 5. Dorothy Perkins Cable Mittens ($20) 6. Pieces Egona Mittens ($12.96) 7. Kate Spade NY Pop Top Merino Wool Gloves ($34.80) 8. Birdseye Pop Convertible Glove ($9.99) 9. TopShop Leather Mittens ($20)
Thanks for the very kind birthday wishes! We did brave the 10 degree weather and had lunch at Miss Korea BBQ which is a fave. It wasn't so bad out if one was properly bundled and the wind didn't blow. The streets were definitely quiet though. We picked up some treats including an incredible savory cheese donut from Paris Baguette and just chilled at home afterwards. I actually took a nap and it was awesome. It felt good to arrive at this birthday given the various ailments that I've been dealing with in the past year. And hubster gave me with an item that I'd been coveting for awhile. I hope to share it with you all in a photo with Rena and Ian soon. I also served the easiest jury duty ever this week. I had to call in for 2 days and wasn't needed so I was dismissed without ever having to show up at the courthouse. Yes!

Connect: 
rss
♥
bloglovin'
♥
facebook
♥ google+ ♥
twitter
♥ pinterest ♥
shop