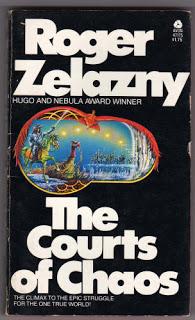 From Amazon:
In the climactic finale of The Corwin Saga of The Chronicles of Amber, the man clad in black with a silver rose at his throat takes it upon himself to draw a new pattern, so that there may yet be order in the universe, regardless of the outcome of the war between Chaos and Amber. In order to do this, he will have to travel with the Jewel of Judgment beyond the bounds of order and chaos, to a no man's land where the coming storm will not be able to harm him. But many forces are out to thwart his mission, including his brother, the traitorous sorcerer Brand.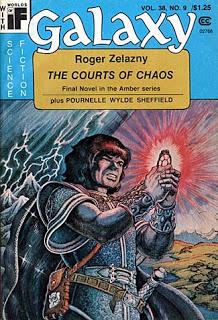 My heart would always race when I received a new issue of Galaxy Science Fiction and the cover featured a new Amber story by Roger Zelazny.  The November 1977 issue showcased a cover by Wendy Pini.  Corwin is staring at the Jewel of Judgement.  In the background we see a storm rapidly approaching while in front of Corwin is a more pastoral land.  And the story never slows down after this point.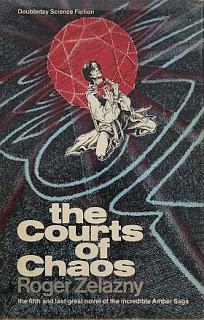 This one has it all.  People live, people die, worlds are born, all of reality is threatened with destruction, secrets are revealed.  Everything I wanted in a story was packed into this series.  Including the basis for the next five book arc.  Unfortunately, Zelazny was planning to write a third arc for the series when he died.  A few short stories appeared but we will never find out what he had planned for the rest of the series.  
The Chronicles of Amber receive my highest recommendation.  I know I will return for my fifth reading in a few years.