Before I share the secret , let me share other secrets which probably would not have been possible had shamsood not sent  a mail asking me to contribute to the book that he was planning  to publish soon.WOW an established poet like shams asking me for a contribution meant I have to be good in my work to have a place in a book which later on I realised is a collective effort by 5 more senior poets who certainly need no introduction , their work speaks for them and they are Saru Singal, Amit Aag , Ajay Dudeja , Jass C Scott  Sohail Akhtar ,  and securing a place among them meant a lot to me, untill then I just wrote and wrote till I dropped . Writing has been a passion for me , though I never got any negative comments but positive comments made me even more nervous  I often wondered "are they trying to keep my heart " But I did not give up and kept on writing and worked towards improving my writing skills .ASQW21



  "  THE COUNT DOWN HAS JUST BEGUN "   
  high time I shared the secret 
  HMMMMMM  WELLLLLL
 I shouldn't keep you waiting here it goes...My poetry is getting published in the book  "Rousing Cadence " due for release on 27/07/2012 . In fact I shouldn't be calling  it a book but a collection of words in harmony with emotions , a collective effort by the rousing cadence team to  give a new dimension to the world of poetry. I seriously got butterflies in my stomach :))))))))))))
  MY HEARTIEST CONGRATULATIONS TO TEAM " ROUSING CADENCE "
   Team Rousing Cadence!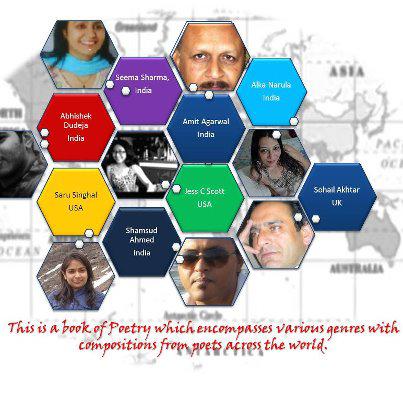 (For more info click image to reach Rousing Cadence page on Face Book)     
     A SPECIAL THANKS TO SHAMSOOD FOR MAKING IT HAPPEN
    THANK YOU CYBER PUBLICATIONS
    A SPECIAL THANKS TO SEEMA SHARMA FOR THE ART WORK
     THANK YOU ALL THE BLOGGERS , READERS FOR YOUR SUPPORT
AND A V V SPECIAL THANKS TO INDI BLOOGGER FOR GIVING US A PLATFORM TO SHARE OUR THOUGHTS AND CONNECT WITH EACH OTHER
AND OF COURSE SPECIAL THANKS TO ALL THE BLOGGERS FOR GIVING ME SPACE IN THEIR WORLD AND MY READERS FOR ACCEPTING ME WITH FLAWS ,WITHOUT YOUR SUPPORT IT WOULD NOT HAVE BEEN POSSIBLE !