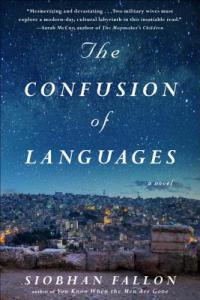 Book Cover Image: The Confusion of Languages by Siobhan Fallon
" data-orig-size="267,400" sizes="(max-width: 200px) 100vw, 200px" aperture="aperture" />
BOTTOM LINE: So powerful and so accurate. It brought back more memories than I had thought I had regarding my own life as a military spouse.
Genre: Literary Fiction
Publication Date: 27 June 2017
Source: Publisher via NetGalley
Synopsis from the Publisher:
"Both Cassie Hugo and Margaret Brickshaw dutifully followed their soldier husbands to the U.S. embassy in Jordan, but that's about all the women have in common. After two years, Cassie's become an expert on the rules, but newly arrived Margaret sees only her chance to explore. So when a fender-bender sends Margaret to the local police station, Cassie reluctantly agrees to watch Margaret's toddler son. But as the hours pass, Cassie's boredom and frustration turn to fear: Why isn't Margaret answering her phone, and why is it taking so long to sort out a routine accident? Snooping around Margaret's apartment, Cassie begins to question not only her friend's whereabouts but also her own role in Margaret's disappearance.

With achingly honest prose and riveting characters, The Confusion of Languages plunges readers into a shattering collision between two women and two worlds, affirming Siobhan Fallon as a powerful voice in American fiction and a storyteller not to be missed."
My Thoughts:  In January 1998, my husband and I landed in Frankfurt, Germany. We had been married for seven months and had left the United States with very little in the way of life experience. My husband was a relatively new Second Lieutenant in the Army, and this was our very first military assignment.
During the three years we lived there, we tried to see as much as possible but often had to postpone or cancel trips because of a surprise military exercise or other emergency action. While my husband did not have to go anywhere that put his life on the line, he was constantly on call and had to be able to change his plans at an instant. He worked long hours and frequently received calls in the middle of the night that required attention. For him, this was no lark. It was real life, and the Army let him know it.
While my husband tried to help me with the transition to life as a military spouse, he often was not around to do so. Most of the military spouses in my husband's unit with whom I was supposed to rely on for support were stay-at-home mothers with surprisingly large broods of kids. I was more anxious about finding a job (I did) than having kids. They all lived in military house. Life on the installation meant American television, ready access to the commissary, American neighbors in the same situation, even access to familiar American restaurants that mean so much after a while. We chose to live away from the military installation and lived in a small village about twenty minutes away. Our landlord was German, our neighbors were as well. Very few spoke English, and even fewer knew what to expect from Americans living on their very quiet street. German grocery stores close early and are not open on Sundays. Their restaurants are full of great food, but it is not American food. As for German TV, it is an experience and something American TV will never become.
I mention this only because my experiences had a tremendous impact on how I read and feel about Siobhan Fallon's debut novel. For me, it was a punch to the gut as I remembered the conflicting emotions of wanting to experience as much as possible but also stay within the familiarity life in the military installations brought. I was Cassie and I was Margaret at different times in those three years. I understand Cassie's caution as well as Margaret's feelings of abandonment at the thought of a deployment because I lived them. I know what it is to being hyper-vigilant, about not "looking like an American" when out and about, and being constantly aware of the news in case there was ever a threat that forced me to stay home. I also know what it means to chafe at the restrictions and impositions the military established during our tenure there, not wanting to listen to others with more experience. I understand the impact of having almost no support network to help you navigate this new world or even to keep you busy when the soldiers were gone. It is not a scenario readily explainable to those who cannot fathom packing up all of your belongings and moving to a different country, reliant solely on your significant other, a very small group of friends if you are lucky, and the little support the American consulate and other US military installations can provide.
Living abroad, regardless of where you live, is all about remaining respectful of the local culture and traditions and not drawing attention to yourself. It is also about the importance of friendships and having a strong support network. Life as an expat is not easy, and it takes its toll on you mentally.  I cannot adequately express just how well Ms. Fallon excels at doing this. Her descriptions evoke the very same emotions that beset me during my time in Germany, and I found my sympathies switching between the two women, depending on my experiences living abroad and how they matched their own. What eventually happens is much more tragic than anything I experienced and yet it becomes all too easy to see not only how it could happen but sympathize with Margaret as she makes poor decision after poor decision.
The Confusion of Languages is a brilliant title choice as it depicts so much. From simple, obvious things like not knowing the native language to bigger things like having to learn military speak, when you lose the capacity to communicate easily and freely, you lose some freedoms. The chance of misunderstandings increases, and some small dispute quickly escalates into something much worse. We see this time and again in all aspects of life, but it takes on greater meaning when you are away from home.
Through Cassie and Margaret's very different approaches to living abroad though, Ms. Fallon captures the various attitudes and experiences that come with living at the mercy of the military in a foreign land and makes you experience them. For readers like me, it is like being back there all over again. For those readers who have not experienced such living, it is an eye-opener to everything we take for granted living in the United States but which disappears upon leaving its borders.












Related Stories
Stunning and worthy Beartown