0 Flares
0 Flares
×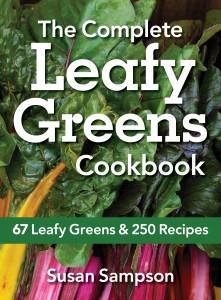 The Complete Leafy Greens Cookbook by Susan Sampson
little Indiana and family love our green vegetables so The Complete Leafy Greens Cookbook by Susan Sampson was an exciting addition to our cookbook shelf!
With a focus on 67 different leafy greens each with a picture to help you identify it, it is THE book on all things green and delicious.
The Complete Leafy Greens Cookbook by Susan Sampson Review
Our favorite vegetables include brussel sprouts, bok choy, kale, cabbage, and spinach. These and many other favorites both traditional and unexpected are included in this handy book!
Like many of you, I sometimes make the same vegetable recipes over and over because, well, I know that I like it! I know what to expect.
But The Complete Leafy Greens Cookbook is so easy to follow with recipes real people eat, that it will certainly get you out of the leafy greens preparation rut.
Cabbage, Kale, and Spinach: Oh My!
Thai Style Pea Soup, Kohlrabi Oven Fries with Green Aioli, Tuscan Kale Pesto, Iceberg, Olive and Herb Salsa, and Smoky Chinese Broccoli are just a handful of interesting recipes!
More than a cookbook, this Robert Rose Inc. gem is a very handy resource! Yes, you've got multiple recipes to choose among but there are also tasting notes, substitution suggestions, health notes,  equivalents, and even bits of history mixed in.
Cookbooks like this are the reason why I sometimes grab a cookbook to read before turning in for the night instead of a traditional book!
Wonderful Resource
Don't look at The Complete Guide to Leafy Greens Cookbook as just another cookbook. This one is so full of information you will wonder how you ever lived without it!
Find or special order The Complete Leafy Greens Cookbook by Susan Sampson at an Indiana bookstore near you.
little Indiana received a copy of  The Complete Leafy Greens Cookbook by Susan Sampson in exchange for an honest review. Opinions remain mine and mine alone.
Small Towns: Destinations, not Drive-Thrus! I'm Jessica Nunemaker and THIS is little Indiana!
Find pictures in Indiana on my Flickr photostream or on the new little Indiana Tumblr blog.
Just don't forget to tell 'em that  little Indiana sent you!
Don't miss a moment. Subscribe to little Indiana and receive instant updates to stay on top of everything "little."
little Indiana: Where to Stay, Play, and Eat in Small Towns in Indiana. Discovering Indiana's best small towns! Now get little Indiana on your Kindle.
Targeted. Relevant. Affordable! little Indiana advertising.