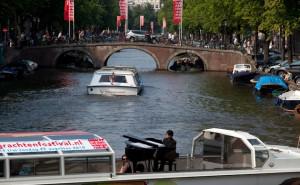 Today, Amsterdam's famous canal girdle will be alive with the sounds of classical music. Mixing with the beauty and the tranquility of the canals, many may wonder if the music is a dream. But indeed, it is not. It is the start of the 14th annual Grachtenfestival.
Every year, the classical music festival brings to Amsterdam the most talented local and international musicians. But what makes this event stand out most from the rest of the city's summer festivals is the unique locations of the concerts – on the water!
Floating orchestras can be glimpsed for the whole of the nine day festival. But other, land-based sounds will be heard as concerts are also scheduled for canal house salons and water-side podiums.
Over 150 different concerts will be held in this year's edition, under the theme "Dance!" The spotlight is specifically placed on Holland's young talent and taking music lovers on a journey of sound through the twists and turns of the canals.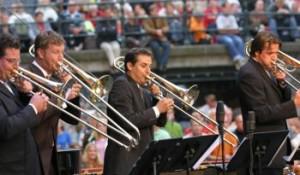 In addition to the touring waterway tunes, there are several daily events planned. Most spectacular is the House, Garden and Roof Terrace series of concerts scheduled for Saturday 20 August. All locations are kept top secret until just before show, adding an element of mystery to the sublime music that lies in store.
There is also a special children's programme, billed the Junior Grachtenfestival. Featuring musical selections and performances tailor-made for children, this part of the festival not only introduces children to the beauty of classical music but also to the most exciting areas of Amsterdam. For example, the Vuurtoreneiland, the city's own lighthouse haven.
Tickets to each show may be purchased online, but for those on a tight traveller's budget, there is one fantastic offering. The Grachtenfestival's most anticipated performance, the Prinsengracht Concert, held on the last Saturday of the festival is a free, open-air performance.
Held along the Princengracht, just steps away from the Pulitzer Hotel, everyone is invited to enjoy the ebb and flow of classical compositions and the magical way it mixes with the canal tide.
Experience the Grachtenfestival and forever wonder if Amsterdam's canals don't always have a quiet, classical soundtrack.