This is the weekend edition of TheMarioBlog and will be updated as needed.  The next blog post is Monday, December 16.
TAKEAWAY: It has been a week of remembrance for Nelson Mandela, the South African icon, whose impact has been felt by people around the globe.  We take a look at how The Citizen of South Africa, a project with which we collaborated in 2013, handled its biggest story of the year.
Earlier this year, we at Garcia Media completed a rethink and redesign of The Citizen, the South African daily.
So, of course, I was very curious to see how the editors and designers had flexed their muscles when the biggest South African news of the year knocked on their door.  The death of Nelson Mandela is a very local story for the readers of The Citizen and for all South African. It's a story of such magnitude that it became a local story for every newspaper everywhere in the globe.
I asked Hendri Pelser, The Citizen's Deputy Editor, to give me an idea of how the coverage was received. He has sent a selection of pages from four days of news about Mandela's life and death.
"

We stopped the presses

"
In movies and television shows you are bound to encounter an editor somewhere shouting "Stop the presses!" That never happens. Well, almost never. The passing of former South African President Nelson Mandela last Thursday stopped the presses – every single one of them in the country.
Earlier that afternoon, The Citizen had heard rumours of an emergency Mandela family meeting.
While the family denied the rumours, we decided to keep on the story. Our journalist and photographer camped out at Mandela's Johannesburg home for hours. As the evening wore on, we kept watching the clock. We have had a long time to prepare for Madiba's death and we had a strict timetable which would guide us in term of printing deadlines. Get out on the streets too late and you won't sell any papers. Change too few pages and you will disappoint readers.
The official word eventually came just before midnight and our suspicions were confirmed. We stopped the presses.
It was an emotional tour de force for journalists
Hendri describes the emotional scene in the newsroom when the official news of Mandela's death came:
With tears dripping down cheeks, a core team frantically started changing pages to make space for the Mandela coverage. Our initial deadline was 1am but it became clear that we would need more time. The deadline was moved to 2am. Anything later and we would miss the morning commuters.
As a result, the design had to be concise and to the point – time was against us.
It was an amazing sight to see the team produce the copy and pages – you probably will never see people writing, laying out, subbing and proofing that quickly ever again!
The first day front page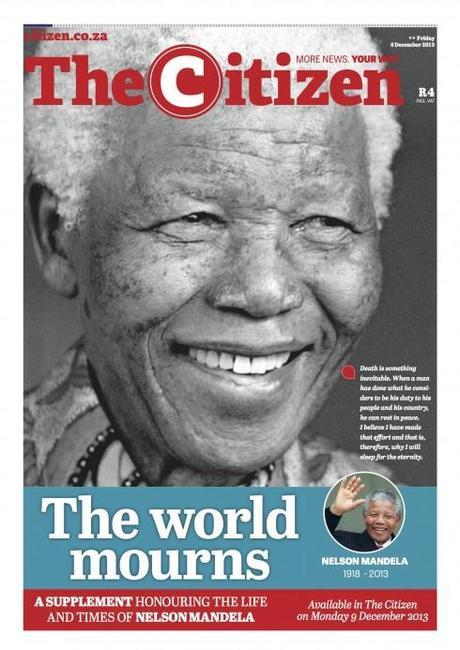 We made deadline with a great-looking front page which received a bit of international reaction.
The sports page and capturing a historic moment for South Africa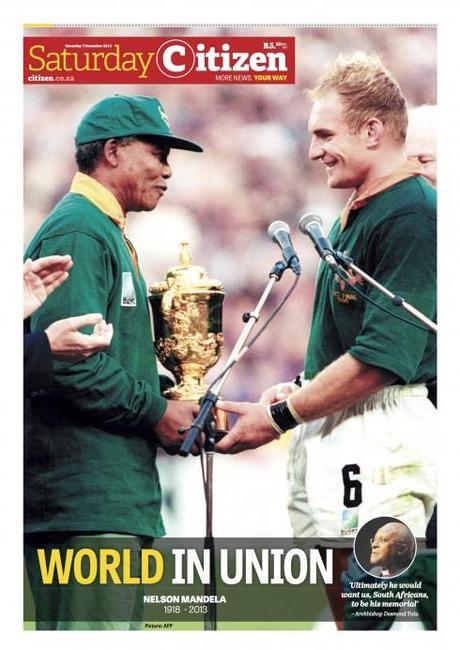 Because our Saturday paper is strongly focussed on sport, we ran a famous photo from the 1995 Rugby World Cup on front. This iconic moment is considered to be one of the turning points in South African political history following democracy. Rugby was widely seen as a "white" sport and a symbol of apartheid oppression. Mandela, the great reconciler, walked out onto the pitch and stole the hearts of a nation in his Springbok jersey.
Special pages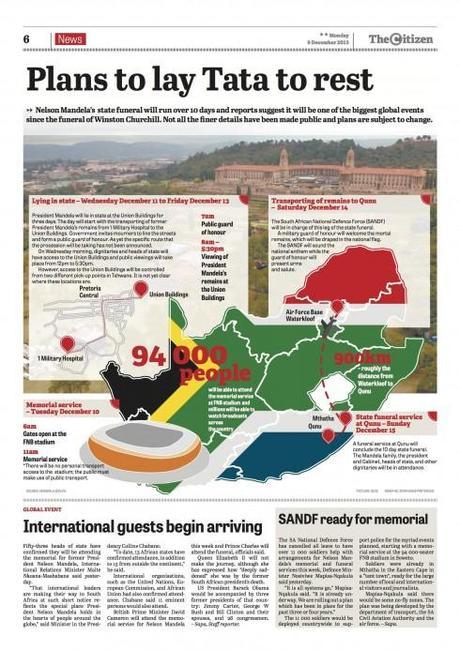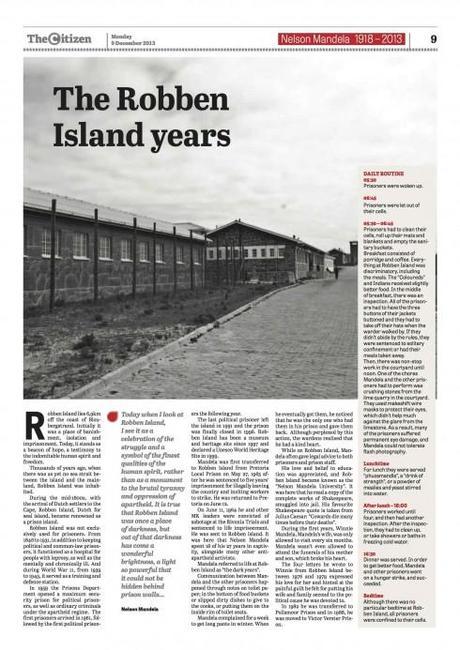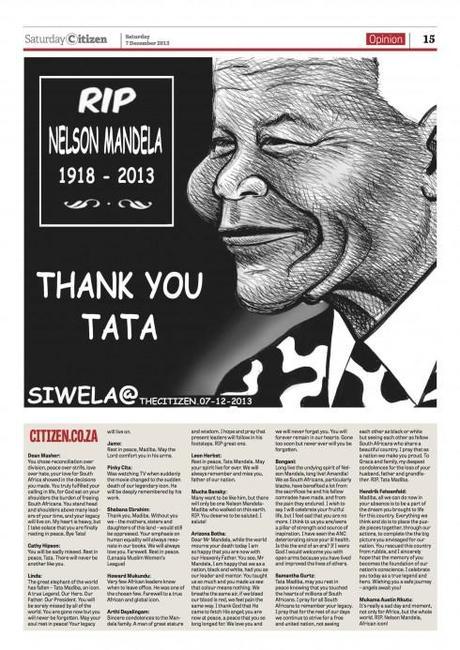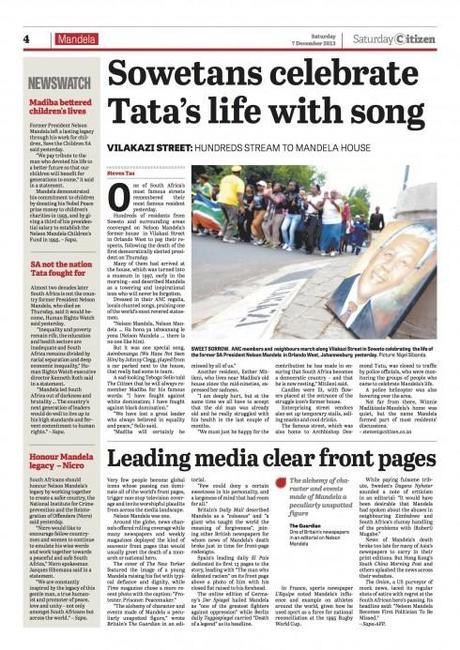 While many South African newspapers ran special Mandela supplements over the weekend, we decided to hold off until the Monday.The supplement chronicled the life of an icon and was well received.
Sunday saw the entire country coming to a standstill with memorial services being held to honor the late President. The mood was sombre and our front page reflected this. Most South Africans however, wanted to know more about the arrangements for the state funeral and memorial. While a multitude of government briefings had taken place over the weekend, details on the official events were still sketchy. Articles and infographics relayed what information we had available.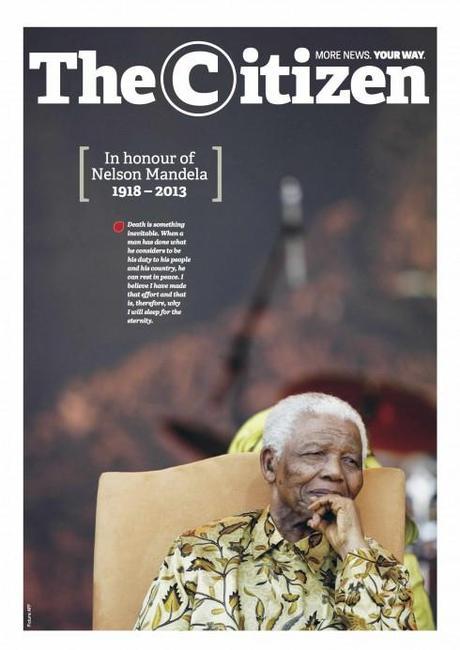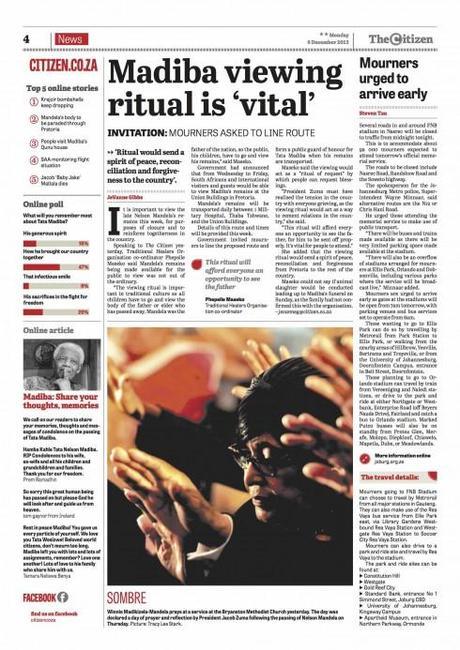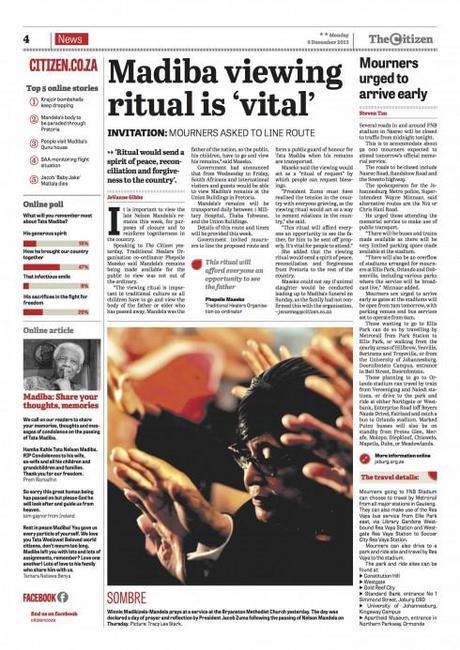 By Monday more details became available on the official 10 days of mourning. However, South Africans wanted more details on what had transpired on that fateful Thursday evening Mandela passed away. Our front page reflected this.
They loved President Obama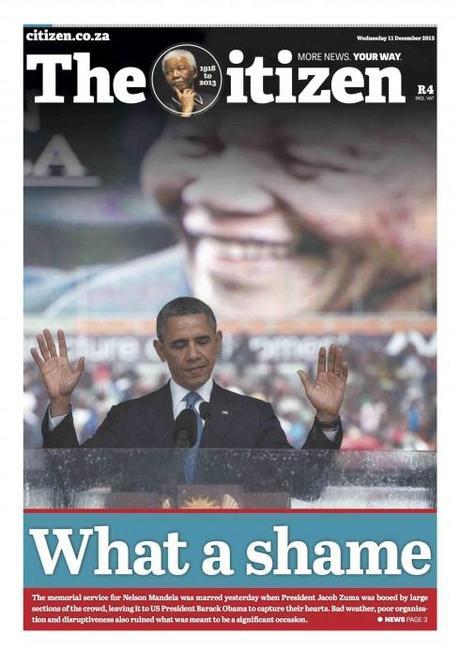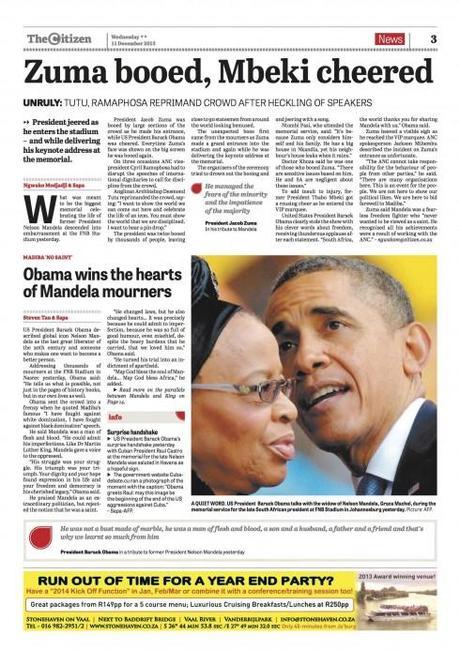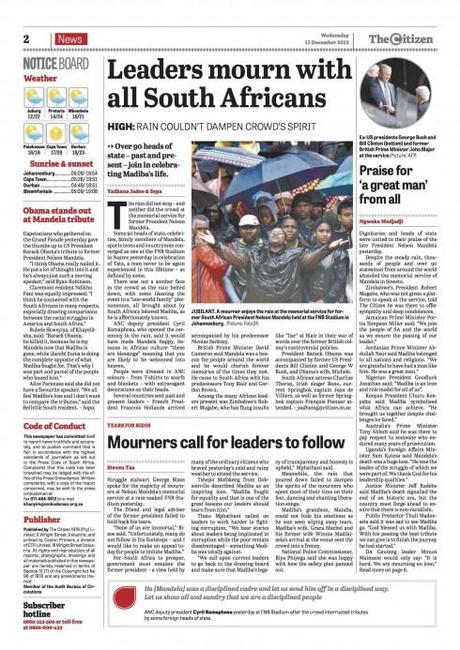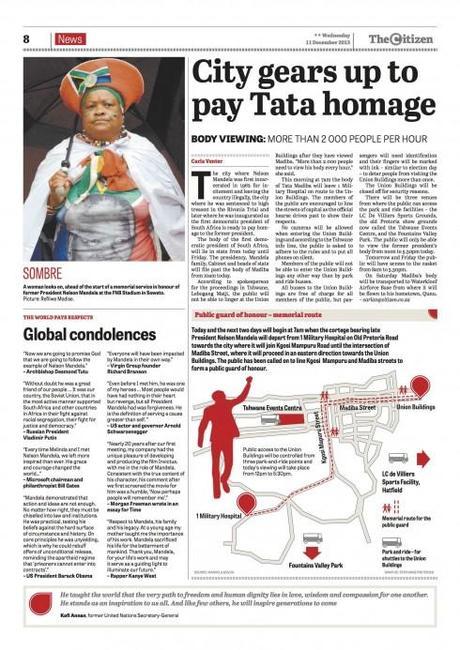 The big news on Tuesday was the official memorial service attending by nearly 100 heads of state, including US President Barack Obama.Despite rain pouring down, the massive FNB Stadium in Johannesburg was almost filled to capacity.
What was reader reaction to the coverage?
"The reaction from the readers has been tremendous. Feedback and general comments on Twitter, Facebook and our SMS line streamed in. Everybody has a Madiba story and everyone wanted to share their emotions," Hendri said.
How about sales?
"There was a spike in sales for both the Friday and Saturday editions. We are still awaiting final figures for the Monday paper that carried our special pre-printed supplement," he said.
Previously about The Citizen
The Citizen of South Africa:it's a totally new product
http://garciamedia.com/blog/articles/pthe_citizen_of_south_africa_its_a_totally_new_product._p
Birth of a new newspaper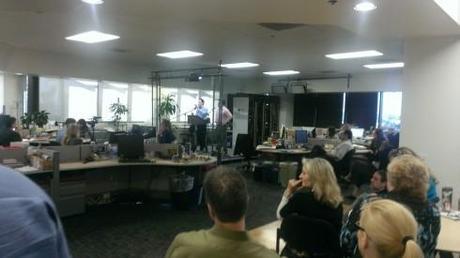 Moment when Kushner announced the start of new newspaper, LA Register (photo courtesy of Jeff Goertzen)
Our friend Jeff Goertzen, of the Orange County Register, sends us this picture and announcement: Aaron Kushner, publisher of the OCR,  just announced the launch of the LA Register at a town hall meeting Thursdday.
This is part of what has been an expansion since Mr. Kushner bought the OCR. Already he started the Long Beach Register.  So the Los Angeles area will have another print product.
Good news, indeed. More as we find out details.
Weekend reads
Chances are you're not reading this on a mobile device
http://gigaom.com/2013/12/10/chances-are-youre-not-reading-this-on-a-mobile-device/?utm_source=General+Users&utm_campaign=e5ab1b71fa-c%3Amed+d%3A12-11&utm_medium=email&utm_term=0_1dd83065c6-e5ab1b71fa-99132473
Highlight:
Publishing analytics startup Parse.ly has released a report highlighting the top screen sizes on which its customers' readers are consuming news content. Desktops and laptops still dominate overall, but Apple is king of the mobile devices.
The Visual Voice of the Huffington Post
http://www.spd.org/2013/12/huffington-magazine-covers.php
Take a look at a series of recent Huffington Post covers, that, as creative director Josh Klenert describes it, "highlight the best of the Huffington Post".
'New York Observer' surrenders the pink
http://www.capitalnewyork.com/article/media/2013/12/8537289/new-york-observer-surrenders-pink
First paragraph:
The New York Observer is set to trade in its most distinctive feature—the salmon-colored paper it's printed on—for basic newspaper white.
New York Times Expects Digital Ad Growth in 2014
http://adage.com/article/media/york-times-expects-digital-ad-growth-2014/245617/
Highlight:
To spur growth, the Times is introducing branded content solutions for advertisers, according to New York Times CEO Mark Thompson, who spoke at UBS's media and communications conference taking place in New York City.
"There's no in principle reason why giving advertisers an opportunity to get long and sophisticated messages to users can't happen in the context of The New York Times," he said.
Can print magazines save themselves?
http://www.theatlantic.com/business/archive/2013/12/can-print-magazines-save-themselves/282212/
Highlight:
For now, the prospects for print are generally gloomy. An elegy of sorts was sounded by David Carr in The New York Times in his front-page account of New York's decision to go bi-weekly beginning in March, a move, he wrote, that "represents the end of an era and underscores the dreary economics of print and its diminishing role in a future that's already here. The change will beget misty eyes from magazine geeks—myself among them—while other consumers will shrug and drive into the ever-changing web version of New York magazine that shows up in their browser."
TheMarioBlog post # 1398