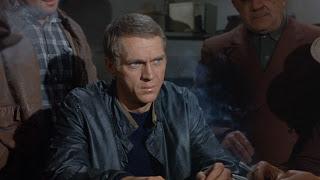 The Cincinnati Kid (1967) started as a Sam Peckinpah project, until that director's antics on Major Dundee led to his firing. Norman Jewison took over, helming this slick but unremarkable star vehicle.
Eric Stoner (Steve McQueen) operates as a poker player in Depression-era New Orleans. Professional gambler Lancey Howard (Edward G. Robinson) arrives in town, and Eric convinces his friend Shooter (Karl Malden) to arrange a match. But sharp-eyed rival Slade (Rip Torn) also has an eye on the prize. And Eric's torn between the affections of his girlfriend Christian (Tuesday Weld) and the lecherous Melba (Ann-Margaret). 
The Cincinnati Kid blatantly recycles Robert Rossen's The Hustler (1961), substituting poker for pool. Jewison makes a stab at period realism with grimy dives and Alf Landon posters, but it's all Hollywood poverty: the high wattage star power and Jewison's stylish direction overwhelm any faux-realism. The movie works better in individual scenes than the whole, especially the cockfight intercutting bleeding roosters, sweating onlookers and foaming beer bottles.
Screenwriters Ring Lardner Jr. and Terry Southern make the plot mechanics simple: a cocky up-and-comer squaring off against a grizzled veteran. The Cincinnati Kid tries enervating the drama with a useless love triangle: naturally, Eric's torn between the good Christian and slutty Melba. It all builds to a climactic poker match that's as tedious and it is predictable.
Steve McQueen's well-suited for the lead, making Eric tense, edgy and insecure beneath an icy exterior. Edward G. Robinson phones in his performance, while Tuesday Weld and Ann-Margaret are mere eye candy. Karl Malden's shifty manager, Rip Torn's smooth card shark and Joan Blondell's vulgar dealer make stronger impressions. Jazz musician Cab Calloway has a minor role.
The Cincinnati Kid makes passable entertainment. The Hustler certainly isn't a bad template for any movie; it's just a shame Jewison does little beyond changing the setting and the sport.