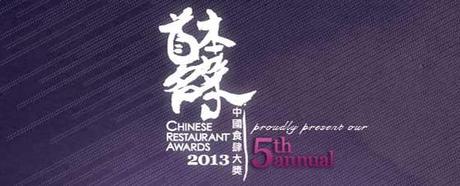 Sourced from thecanadaline.com
Since 2008, the Chinese Restaurant Awards have been recognizing Chinese restaurants for their incredible culinary creations that showcased the rich history and modern innovations of Chinese cuisine. Yesterday, Fasha and I attended the CRA 2013 as media guests, where we were able to sample some of the award-winning dishes as well as observe the awards ceremony. To see the triumphant restaurants and their signature dishes, you can check out the CRA website: www.chineserestaurantawards.com
---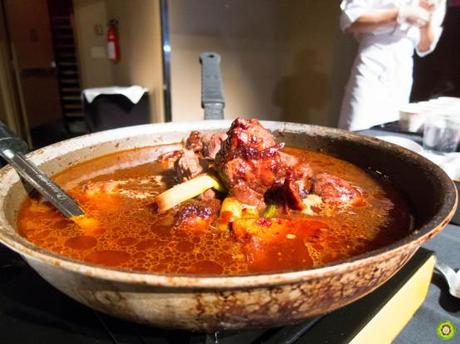 Chef Hung Taiwanese Beef Noodle won the 2013 Diners' Choice Awards for "Best Taiwanese Beef Noodle." Just last year, it also won the 2012 Critics' Choice Awards for its Beef Shank with Noodle in Spicy Soup.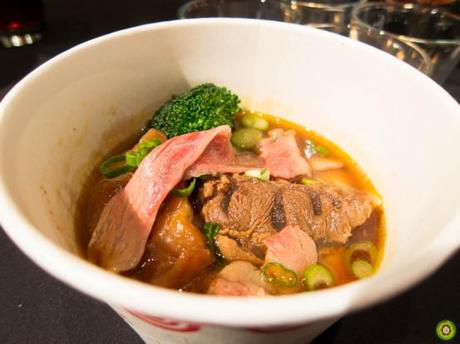 Notably, their broth is made with premium beef and has no MSG. This sample was just the regular Beef Shank w/ Thick Noodles, Beef Tendon and Sliced Beef.
Even without MSG, the broth was super flavourful. The beef shank wasn't totally fall-apart-in-your-mouth, so it had a nice meaty texture. Although, I didn't really like the sliced beef as it was quite chewy.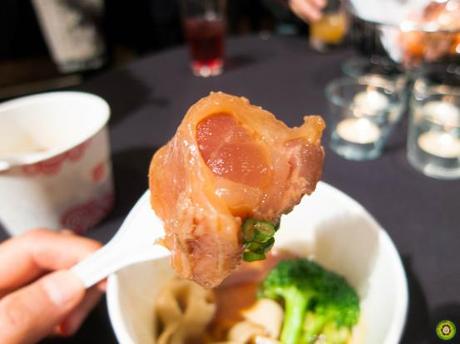 The beef tendon was really good! Not only did it soaked up the flavour of the broth, but also it had a slightly elastic byte to it. Fasha definitely liked it :)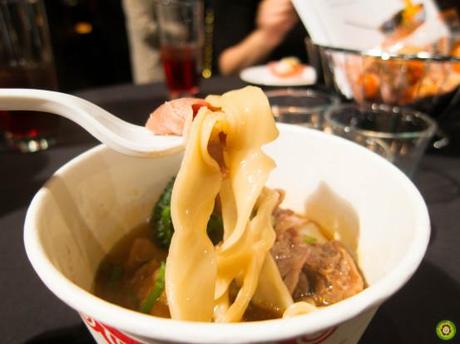 The hand-made noodles had a great chew.  I was super excited to see them demo the making of the noodles, but I only saw them rolling out the dough… Maybe next time :)
---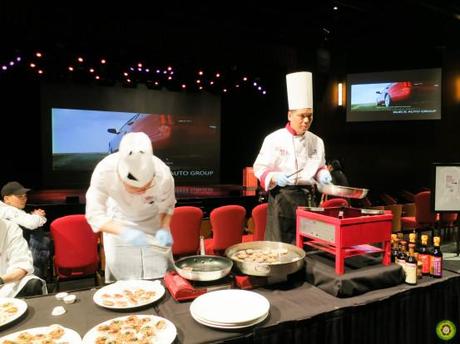 Sea Harbour Seafood Restaurant was crowned "Most Awarded Chinese Restaurant 2009-2013." Naturally, their winning dish for 2013 was part of the Dim Sum category: Deep Fried Pumpkin Sticks w/ Egg Yolk Sauce.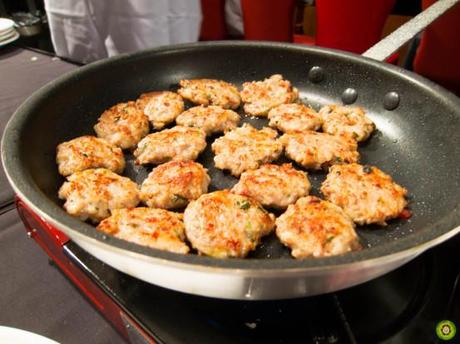 However, they were serving up Pan-Fried Alberta Pork Patties w/ Black Truffle instead. I don't think these were award-winning. It was more like to showcase Alberta Pork.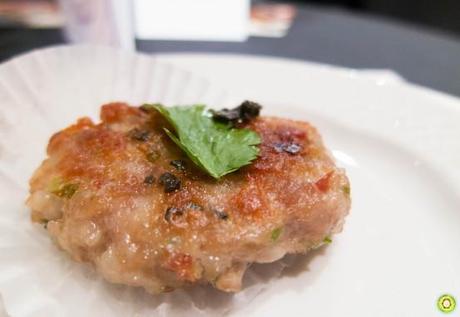 The patties were pan-fried very nicely and bouncy to the tooth. Unfortunately, I found that salt stole the spotlight from the pork. This probably would've been better if it was served with something else, to take on the extra salt.

---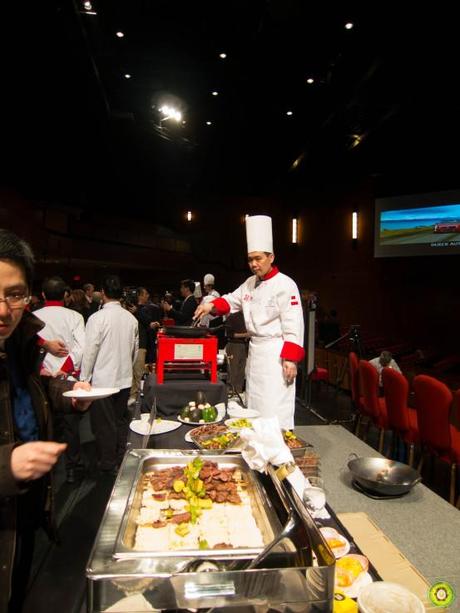 Fortune House Seafood Restaurant was also serving up some of Alberta's products: this time it was beef! Pan-fried Alberta Beef Skewer w/ Cumin Powder to be exact.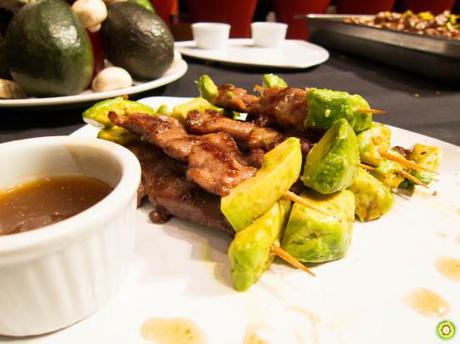 Oh man, I could smell the cumin from a metre away! They sprinkled it with caraway seeds that impart a nutty, anise flavour.
I'm a huge fan of avocado, but I found that they weren't adequately ripened. The beef was so tenderized to the point that Fasha mistook it for lamb! Also, there was just too much cumin – it was masking the beef flavour.

---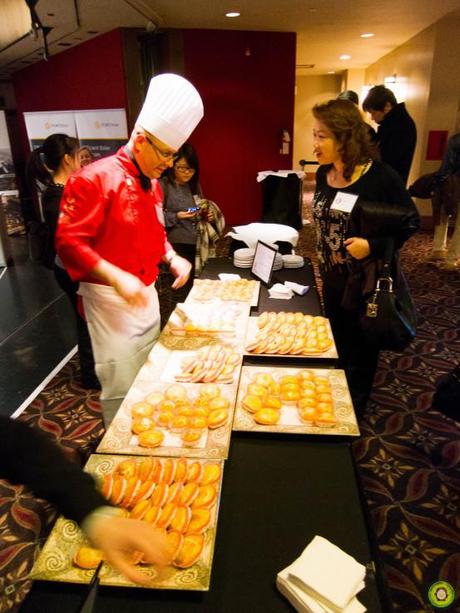 Kam Do Bakery was my absolute favourite! It won the 2013 Diners' Choice Awards for "Best Bakery Shop," and they definitely deserved it.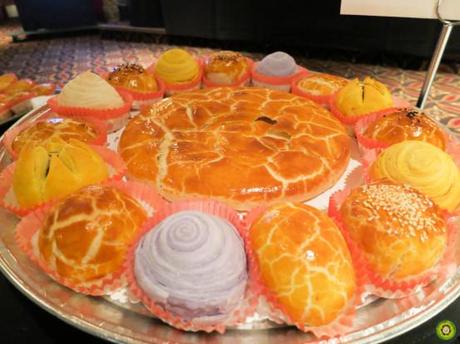 At the awards, they prepared a variety of delectable pastries. I tried to sample as much as I could!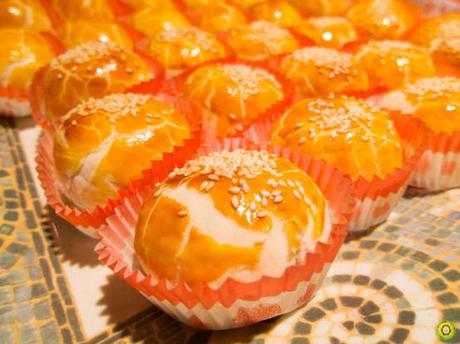 These were filled with Green Bean Paste. They're not very sweet, and had a prominent bean-y flavour.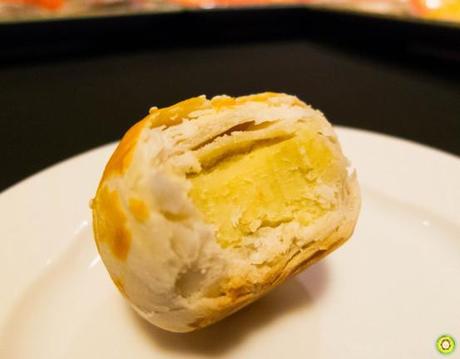 Like all of Kam Do's pastries, this was ultra flaky.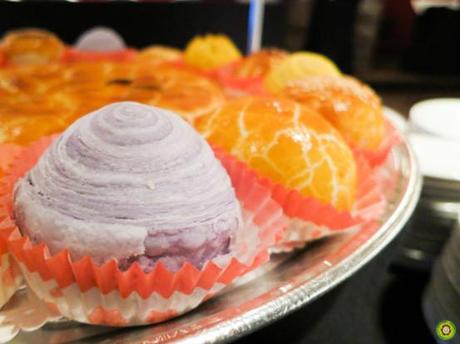 It's purple, what else could it be? TARO! Very airy and crumbly. But I didn't detect much of a taro flavour.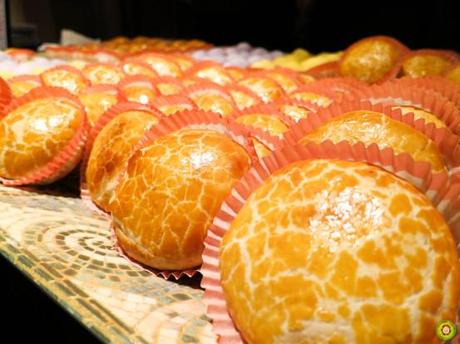 And these are the crown jewels of Kam Do Bakery: Wife Cakes, made with lotus seed custard and preserved egg.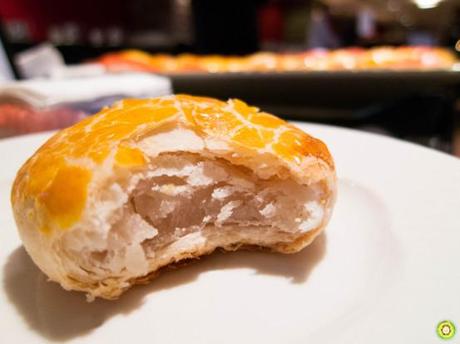 To be honest, I didn't know there was preserved egg :P But that's besides the point. In a nut shell, it was the perfect amount of sweetness. Because of the custard, eating this cake didn't dry up my mouth. As usual, ultra flaky – like snow falling from the sky. I would be happy eating this all day long… :)


---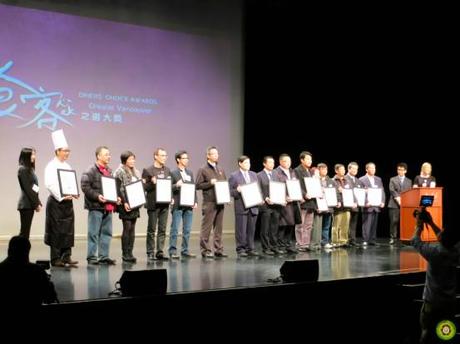 As you can tell, not all of the restaurants whipped up samples for us to try – probably due to the limited space. But here are all of the winners of the 2013 Chinese Restaurant Awards!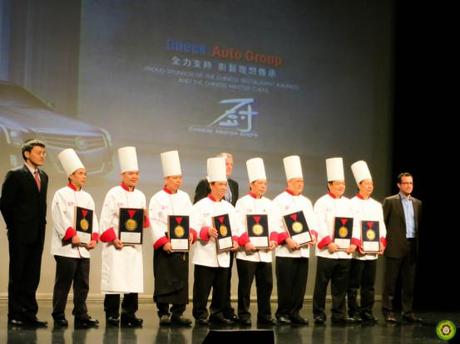 These select chefs were dubbed as International Master Chefs for Chinese Cuisine, recognized by the World Association of Chinese Cuisine (WACC).
So that's that! Again, the list of winners and their dishes can be found on www.chineserestaurantawards.com!