Brrrrrr! It was a bit parky out in the suburban veg plot today. But as the low low temperatures had temporarily made the swamp-like lawn firm enough to walk on, I continued the end of the year garden tidy.
The greenhouse got a good sweep out and I washed the cold frame glass. I need a couple of replacement panes for the cold frame (*adds to hubby's to do list) but as it's only garlic in there, I think they'll be fine with the extra ventilation. The cloves planted out in the raised bed are already peeking their little green shoots above ground.
All this frost should be good for my first sprout harvest. There are some that have developed on the fat stalks but I'm not sure how good they look. Does anyone manage to grow them as they look in the supermarket? Mine are about a third the size and don't look as 'solid'...
But the ever-reliable broad beans are soldiering on. Anyone reading my blog over the past couple of winters will know that I love my broad beans. My harvest this year was a pretty good one and all the beans that aren't eaten fresh are immediately frozen so I have home-grown beans all year round.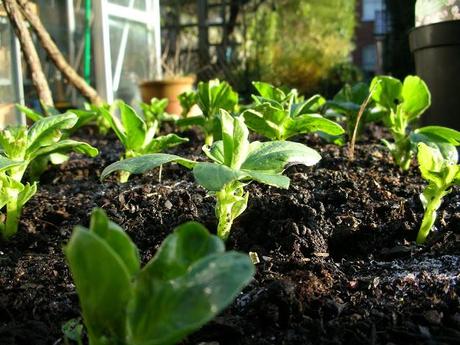 The neglected brassicas (see previous post here) have taken to their new homes quickly. I'm putting a positive spin on this and predicting that I may have a much extended harvest season through the springtime as a result. Some call it neglect and forgetfulness, I prefer to term it successional planting out.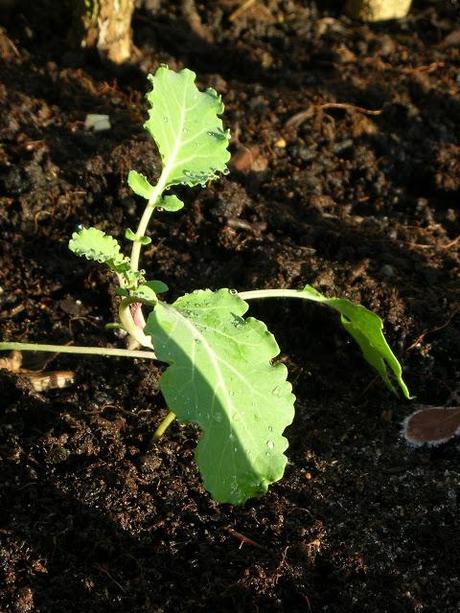 And the start of the proper overnight frosts signals that parsnip season is now upon us. After a bit of a struggle to germinate them this year, I did manage to produce a respectable crop that I'm sure will last us through the winter.