Saturday 17th December 2016
This was to be my first ever walk in the Black Mountains. I'd already postponed it by seven-days due to a poor weather forecast and, while a clear sky was not predicted for this occasion, had faith that it would remain dry.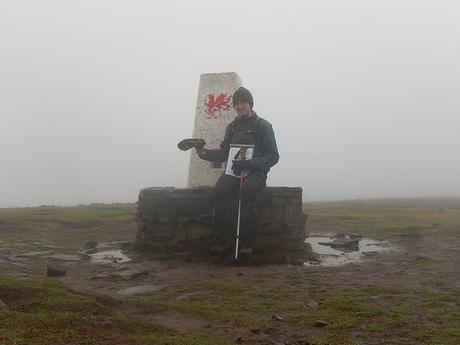 It took just over ninety-minutes for me to cross the River Severn and arrive at the picnic site on the foot of Black Hill… Which is officially classed as being on the English side of the border.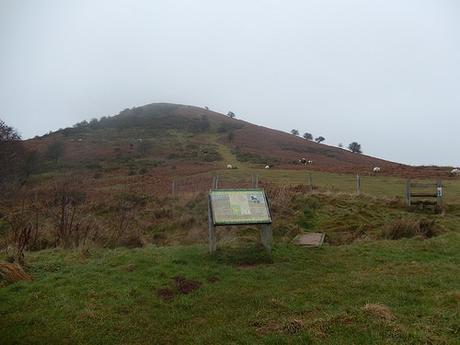 Having left the A465 at Pandy, the roads narrowed immediately en route to Longtown. Beyond, their width would become further restricted – if I ever repeat this walk (particularly with other people), I may look at either making an early start of picking a different car park altogether.
I was very fortunate not to meet another vehicle (or tractor) heading in the opposite direction. It wouldn't have been easy, that's all I'm saying.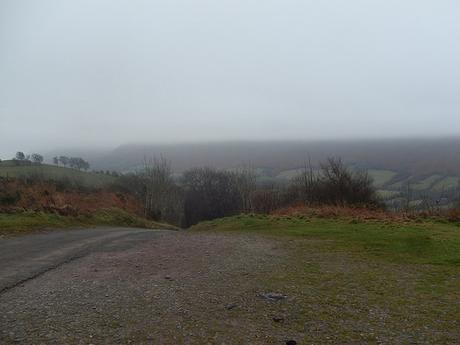 There was no-one else at the car park and I could neither see or hear another soul. Without even a breeze, the atmosphere was as devoid of motion as the low cloud that lingered all around.
There was only really one way to go and that was up; following the steep ascent of Black Hill.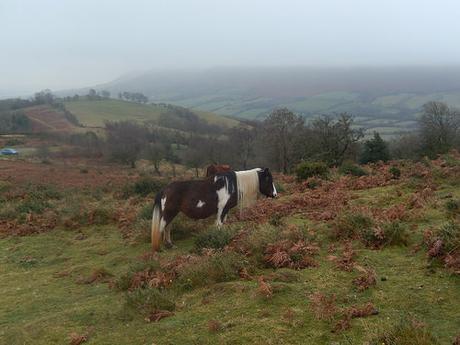 For the most part of this walk, I would follow the route available in the original Walk West eBook. Geoff Mullett, the author, warns against attempting it in poor conditions with low visibility… As I climbed higher, the world beneath me began to fade. I wasn't about to return to my car and drive home; at worst, I could solider on so-far and retrace my steps.
If it would ever come to that!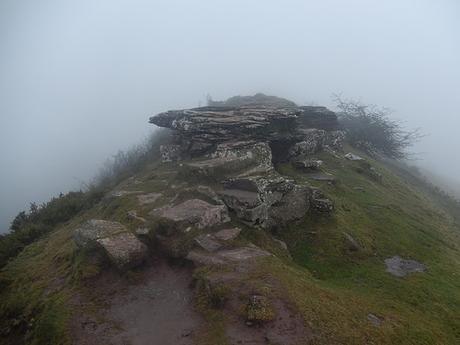 At the top, I found a rocky ridge. Rocks, of course, can be slippery underfoot and I'm sure some would find it 'frightening', in the prospect of continuing further. But, I had faith (this was a ridge and not a large mountain summit). There were no views but I could see fifty-metres of path ahead of me.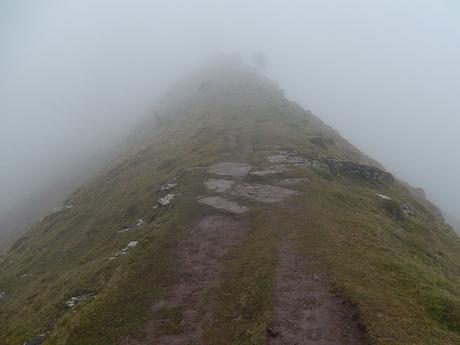 For this day, I had originally pencilled in a hike around Sugarloaf near Abergavenny. I've read and seen that the terrain of that mountain is more 'hill-like'. I was glad to be on this adventure. Sugarloaf could wait.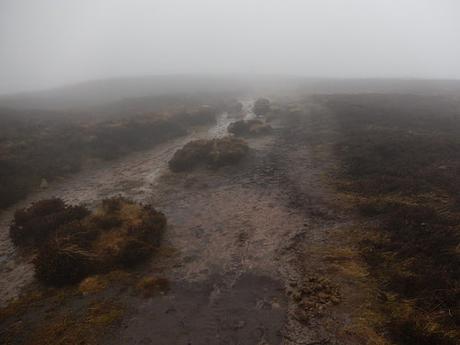 Having gained more than one-hundred metres in height, my rocky route merged in to a moorland summit. An increased expanse of plateau, still shrouded within the cloud.
There is so much open access land, here. A real ability to roam and explore. But I wouldn't recommend straying too far from the clear path, as peat marshes and water bogs could be seen all over.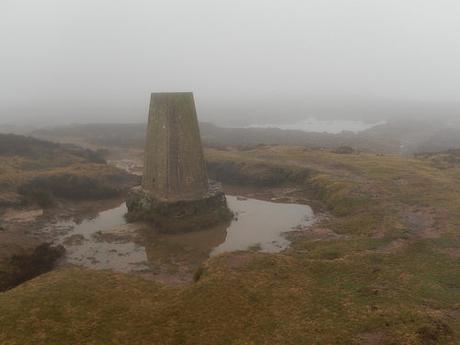 I felt like I had walked a very long way before the image of my first trig pillar crept in to view. It was as if I'd walked twice the distance as illustrated on my map. But, I'm sure there's a psychological element at play, here, as I recall seeing several 'shapes' before finally greeting this historic slab of stone.
Trig points are a welcome sight for me on any walk but even more so on a day of poor visibility. I'd never seen one with its foundation exposed. Only up on the highest of hills and mountains, perhaps.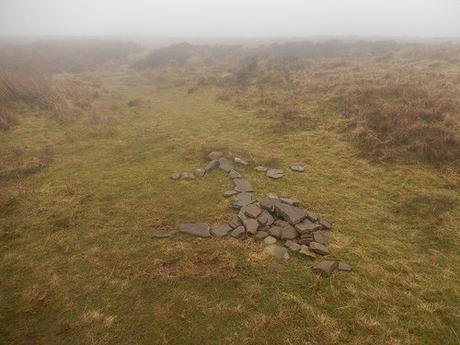 From the 640m summit of Black Hill, I continued in a north-westerly direction with many carefully considered steps as I navigated the moor, only a day after heavy rainfall. Geoff's words were meaningless, by now. I had to stick with my compass. Someone before me had set out this arrow with stones but it was meaningless to me.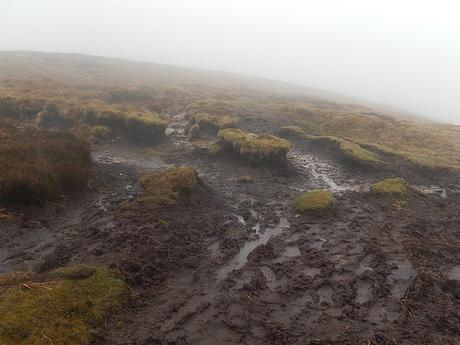 Some of the landscape here was fascinating. How the water – and, no doubt, walkers – had shaped these troughs across the surface.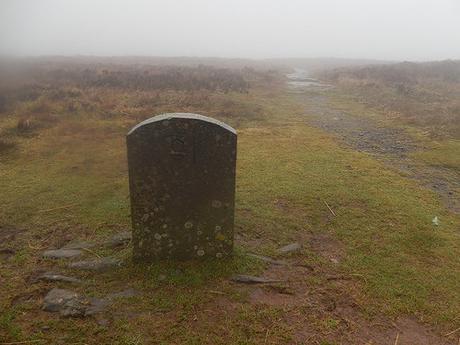 Further on and, after much uncertainty ('Should I be up on that higher path?') with relentless forward motion, I arrived a stone slab with the National Trails' acorn symbol engraved… It could only mean that I had successfully joined the Offa's Dyke Path.
As with reaching the previous trig point; this was a great relief. I had faith that such a National Trail would be in a state that was easy to follow on the southward journey ahead of me.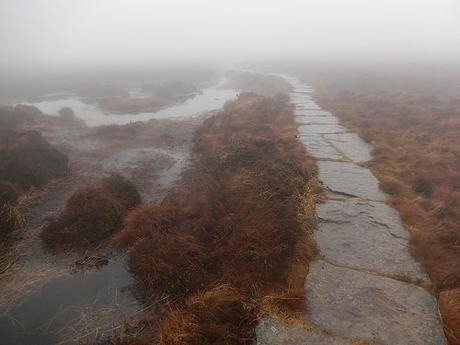 Geoff writes of an optional but brief deviation to the summit of Hay Bluff from here… Somehow, I anticipate it will add thirty-minutes to my walk (each way) but I'm sure I reached the trig point in only five or not much more. Although I left Offa's Dyke for this small portion, the way ahead had been laid out with great limestone slabs.
How… Did they do it?
How… Much time did it take?
How much human power?…
It's incredible. To think how impossible this journey would be without so much dedication and graft.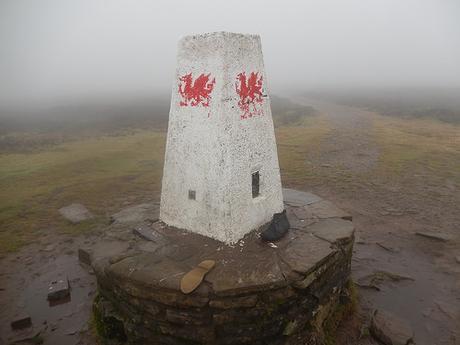 Just as I caught a confirmed glimpse of the trig point on Hay Bluff (and said something aloud to affirm it), I realised there was someone behind me. A man, slightly younger than myself, out with his dog… From where they had come, I do not know but, after a friendly hello, they disappeared further west in to the cloud.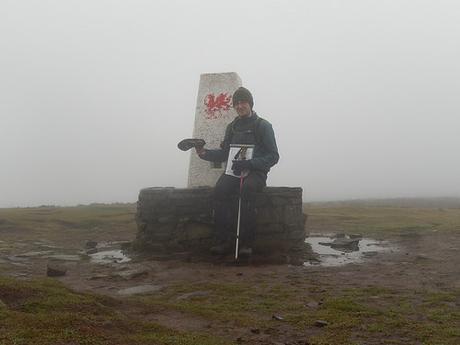 I'm very pleased to say that was not my shoe left 'sole-less' up on the foundation! But again; if someone once left this behind, 677m above sea level… What the heck must their return journey (and the descent) have been like?! Could they not have used the laces to lash it around their sock? I carry a roll of duct tape with me now on every walk, just in case!
I'm a big fan of these particular trig points that have been painted with the Welsh Dragon – rest assured, I was definitely on the Welsh side of the border, now. Offa's Dyke pretty much defines to line between the two British nations.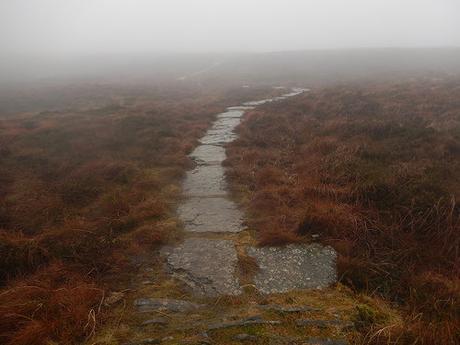 From here, I would decide to solider on before stopping for lunch. In Part 2, I'll retrace my steps to the National Trail and continue in search of my third trig of the day.
Thanks for reading.