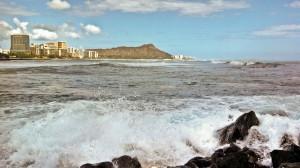 Perhaps no U.S. state faces more acute challenges to sustainability than Hawaii.  The unique biodiversity and ecology that make the Hawaiian Islands so compelling to outside visitors also make their sustainability fragile, and particularly vulnerable to the adverse effects of over-development and climate change.  During several weeks in Hawaii this spring, I frequently encountered the theme of sustainability and what often struck me as a much stronger consciousness of and sensitivity to these challenges relative to the mainland United States.
Clean energy has emerged as an important component of Hawaii's sustainability efforts.  This is as much because it makes good economic and business sense as for responsible environmental stewardship.  No U.S. state is more dependent on fossil fuels than Hawaii.  In 2010, 75 percent of Hawaii's electricity generation was from oil, compared with 1 percent for the entire United States; coal accounted for 14 percent.  Lacking its own fossil fuel resources, Hawaii must import them, at the cost of $4 billion annually—making the state's energy prices the highest in the U.S. and its economy hugely dependent on their costs and availability.  At the same time, Hawaii is well-endowed with a diverse range of renewable energy resources—most abundantly solar and geothermal, and also wind, hydropower and biomass.
In response to these challenges, and recognizing the important potential of developing its own energy resources, the Hawaii State Government has developed an ambitious target of powering 70 percent of Hawaii's energy needs using clean energy resources by 2030.  Hawaii has been making steady progress towards these goals, and in doing so is emerging as a leader among U.S. states in clean energy.  According to the Hawaii State Energy Office, Hawaii ranks first nationwide in energy savings performance contracting per capita; third nationwide in cumulative installed photovoltaic capacity per capita; and third nationwide in clean economy job growth.  These initiatives are still at a relatively early stage, and as technologies for utilizing Hawaii's largely untapped clean energy resources become more feasible and cost-competitive, the potential is compelling.
Hawaii's leaders have described their state as "the ideal laboratory" for developing clean energy and environmentally friendly technologies.  This mindset positions Hawaii to play a potentially important role, both within the United States and internationally, as a test bed for clean energy technologies and systems in practice, and not just theory.  No other state has as much incentive, economically and environmentally, to successfully boost its clean energy capabilities.  Hawaii's unique mix of energy resources and limited geography also make it an ideal location to test smart grid and other systemic approaches, successful versions of which could potentially be scaled up and replicated elsewhere.  These opportunities are already being explored through a smart grid demonstration project in Maui bringing together stakeholders from Hawaii, the broader U.S., and Japan.  In upcoming posts over the coming weeks, I will explore some clean energy activities in Hawaii, and the state's engagement in related international collaborative activities.
Image by Author