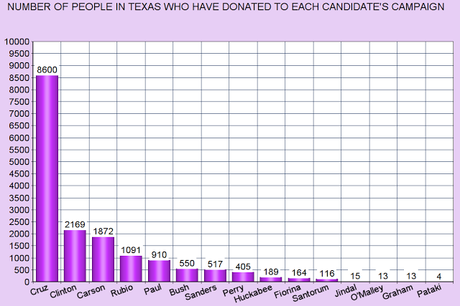 The state of Texas has a huge population, and that means it also has a lot of money that could be donated to candidate campaigns. Because of that, Texas will probably get a lot of campaign visits during the primary campaigns, because candidates will be wanting their share of the Texas "piggy bank".
So, who are Texans donating to so far? The chart above is from the Fort Worth Star-Telegram, and it includes those donors who had given through the end of the last reporting period (according to the FEC). Note that this does not include those giving huge sums to PACs and Super-PACs. These are only the donors who have given directly to a candidate's campaign (and which are limited to a certain amount by federal law).
Clearly, the big winner is home-state Senator Ted Cruz, who has a huge lead over all other candidates in the number of donors. Over 8,600 people have donated money to Cruz's campaign. Hillary Clinton is a distant second with 2,169 donors (over four times as many as her closest opponent, Bernie Sanders).
The big surprises for me were Ben Carson and Jeb Bush. Carson finished second among Republicans with 1,872 donors. I had no idea he was that popular among GOP donors in Texas. On the other hand, Jeb Bush has under-performed badly -- getting only a paltry 550 donors. I would have expected him to do much better than that.
NOTE -- Texans need to enjoy now this popularity during the primary season. It will probably be ignored by both parties once the general election season starts (since most believe the state is solidly in the Republican corner). That's what has happened in the recent presidential elections.