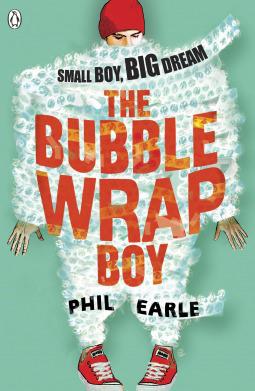 I hate the phrase "Smile, it might never happen".
As someone who suffers from Resting Bitch Face, uttering it is a guaranteed pass to come on in and  get my goat. Charlie Han's least favorite saying is "Good things come in small packages".  For the slight in stature Charlie, there is nothing more grating or demeaning.
Han is the only child of an extremely overprotective mom. He isn't allowed to hang baubles on the Christmas tree in case he scratches himself and was only allowed to attend his first firework display aged 11. Now 14, there still remains a safety gate at the top of the stairs.
Charlie's dad has been rendered almost mute by his overbearing wife, (who seems to spend all the time she can out of the house at as many evening classes that will have her) and the ferocity of her over protecting nature is only matched by the ridicule Charlie endures everyday at school. He only has one friend, Sinus, who is just as tormented as he is, and whether they are actually friends or just thrown together by circumstance, is up for discussion.
A phrase Charlie does believe in is "Everyone's good at something" all he has to do, is find out what that "something" is. It isn't a spoiler to tell you that this something comes in the form of a skateboard, and on it Charlie finds the space and acceptance he craves.
However, overprotective, secretive mothers and potentially bone threatening hobbies don't mix and it is up to Charlie and Sinus to find their own secret ways of conquering a world that seems to hate them. But when Charlie makes a shocking discovery, their plans take an unexpected and heart-rending turn.
This was a really engaging and entertaining read that hits on a lot of subjects that teens will relate to – bullying, popularity, over-bearing parents and the sometimes disposable nature of friendship. I really liked Charlie and felt for him, his life is hard and his pain apparent, but he just gets on with it. I really rooted for him, and though the ending was a bit Hollywood cheesy, I was pleased nonetheless.
However, I have an issue with the female characters in this book; those that exist are much older than the boys and are either weak or used symbolically. Female's thier own age are invisible, only coming into view at the skate park as potential prizes for the boy's achievements:
"That's the last time you'll smell the air without perfume filling your sense. Look around you, Charlie. Girls. They're everywhere"
Everywhere maybe, but not on a skateboard or contributing in any way other than to cause pain, frustration and embarrassment. This kind of thing makes me cringe and its such a shame as everything I have heard about Earle made me hope for a bit more in this respect.
But, that aside, I would reccommend this coming-of-age story to any teen struggling to find themselves.
(My other complaint is the way Penguin format their reading copies on Netgalley which makes them borderline unreadable, but that's another issue….hey, it was free!)
Book info:
ISBN: 9780141346298 (paperback)
Penguin, expected 1st May 2014
Sent review copy through Netgalley