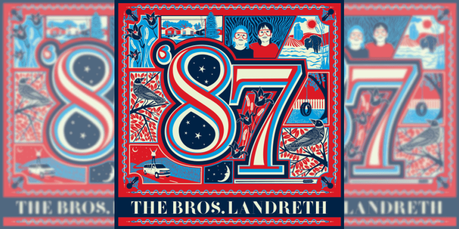 The Bros. Landreth are back with an 11-song collection, wrapped up together as the album, '87. On Apple it's classified as Americana. Google calls it Rock. The band describes themselves in bio spaces as Alt-Country and Roots too. Here's the thing, the genre label doesn't matter. This is a great listen.
Brothers Joey, David, along with the rest of the band's last release Let It Lie was named the 2015 Juno winner for Roots & Traditional Album of the Year - Group. They became known for fantastic songwriting, sweet guitar work, depth, impact, and a real overall strength in both quality and emotion. Joey's solo work over the same years has done much of the same and has made the love for the band, and the desire to hear this new album from The Bros. Landreth grow and grow.
Related: Joey Landreth - Hindsight Album Review
When we say that genre labels don't matter, it's not some grand post-genre music industry statement - what we're saying is that this album can be made to fit in a number of genres by people who want to make their case. We'd agree with the Rock label because we can see how someone would talk about it and try to convince us. We can agree with the Americana label because we can imagine The Bros. Landreth playing '87 alongside other great American artists at a festival or concert. What matters here is the expression of talent, emotion, and art through lyrics, voices, and instruments.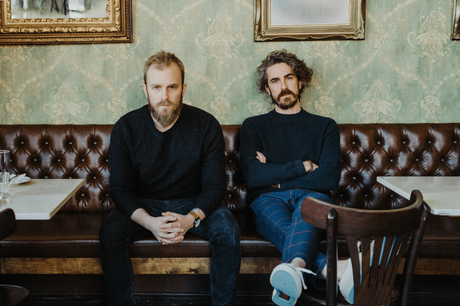 There's an organic feel to these songs, in so much as we can close our eyes and imagine being in the room as they were rehearsed or recorded. The guitar is real and right there. The harmonies and background vocals are never more than they need to be, but always in the right place at the right time. The songwriting and impact of the songs starts with Something and Good Love at the top and continues throughout.
There's also a real re-listenability to this record. It can play in the background as you read. As you work. As you sit quietly and think about life. If you choose to pay attention, it will drag you in with its' words and stories. If you let it play in the background, it will give you guitars and drums and vocals in a soothing but not boring offering for 45 minutes. You won't be wrong to experience it either way at any time. But we do recommend an active listening session first.
In a release day Facebook post, the band said, "Friends, what a wild ride it's been. After 7 years, we are finally a TWO ALBUM BAND. This has been a crazy journey and we are so thankful to be able to have travelled it with all of you. Thank you for the support and love, we are because you allow us to be and we'll never take that for granted! May some of the stories on this album find a little warm corner of your heart to call their own. Love you all and we're not just saying that. Thank you."
We do believe that these stories will find homes in the hearts of fans. And when the band hits the road on Tour '87, we're sure the live experience will be special as well. Check the full list of dates on The Bros. Landreth website, and if you are in Pittsburgh, Hamilton, Toronto, New York City, or any of the other stops on the tour, we highly recommend that you try to get to a show.
Check out the music of '87 now. We've dropped in a couple of videos and the full album stream for you to hit play on and dig into.
Enjoy!
The Bros. Landreth, '87 Tracklist