The Breed
Series
Author: Alice K. Wayne
Genre: Paranormal
Romance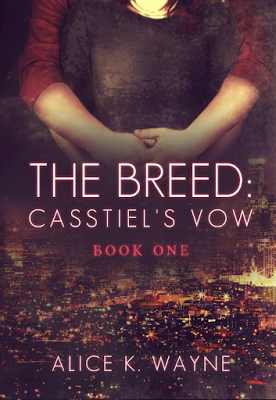 Blurb
After the brutal kidnapping of her brother, Tessa Roberts, a human born with the ability to read other human minds, plunges herself into the dark and mysterious world of the Breed, hell bent on finding him. What she encounters however, is far more than she bargained for. Vampires and werewolves are one race known as the Breed, and are locked in a centuries old war against vicious human Hunters. With the help of Casstiel, the fierce leader of the Breed's defense team who carries a fiery passion for her, can she find her brother before the war erupts on their doorstep? Or will lies and betrayals end the new life she's forged for herself, along with the lives of everyone she loves?
Warning: This book contains strong sexual content and graphic violence, it is not suitable for persons under the age of 18.
ADD TO GOODREADS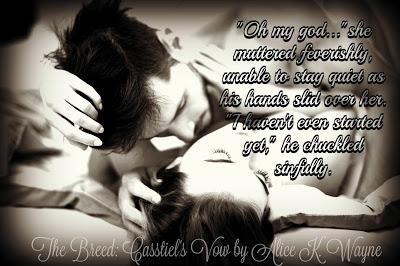 Purchase Links
FREE
AMAZON US / UK / CA / AU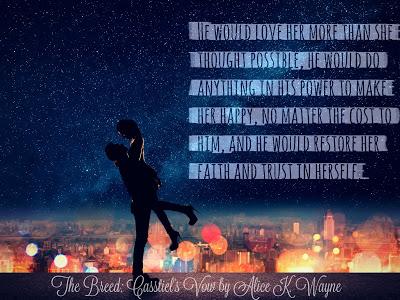 Excerpt
"God I was so stupid…. Why didn't I just listen to you?" she moaned, dropping her face in her hands. "No I was stupid. I'm so used to being the boss, never having an order questioned or disobeyed, it never even occurred to me that you would react the way you did. I dismissed your feelings without even considering them," he jumped at the opportunity to apologize. "Cass, I got shot. You were right, you won the argument by a land slide," she gave him a flat stare. "I like it so much better when you call me Casstiel," he firmly changed the subject. "You keep saying that," she laughed, and for a moment a smile broke across her face. He couldn't help but smile in return. "So I guess we survived our first fight?" she joked off some of the stress of the situation. "You survived," he scoffed, "I'm still in the burn ward because of how badly you lit my ass up." With every laugh from her he felt his breathing getting easier, the vice that had been clamped tightly around his heart loosening. This is what love is… he thought quietly to himself, she is happy and so I am happy. Even though a war is on the brink of exploding, and she's still covered in bloody clothes; when she laughs, I laugh."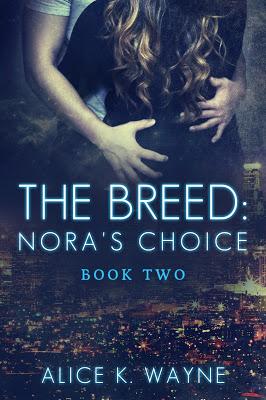 Blurb
Nora is a fiery independent beauty with an attitude cold enough to freeze any man's heart. Any Man except Quinn Roberts; the Breed's newest and most vicious weapon as the war against the Hunters, who is hell bent on making his mate see what their love could be.
With each of them bearing the scars of a brutal past, will the bond they share be enough to heal them, or with war and bloodshed encircling them, will their bond be destroyed before it even has a chance to begin?
*Warning: This book is the second book in a series, and must be read second. This book contains strong sexual content and graphic violence and is not suitable for persons under 18*
ADD TO GOODREADS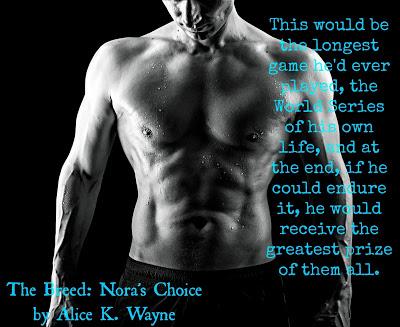 Purchase Links
99c
AMAZON US / UK / CA / AU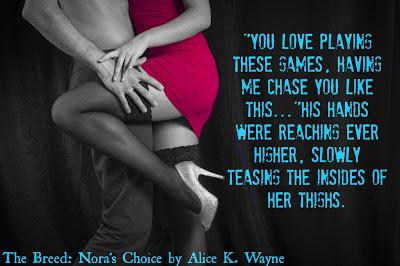 Excerpt
"Good, it's your turn then," he gave her a smile that immediately set her on her guard, "I want to know what your deepest sexual desire is." "Pass," she narrowed her eyes at him. "Have you ever touched yourself while you thought about me?" he knew she wouldn't answer, but the idea excited him anyway. "Pass," she answered, but the way she avoided his eye contact gave him a small thrill of hope. "Did you like what we did outside together?" his eyes were digging into hers, his fingers itching to touch her, to peel the dress off of her body. "Pass-" "Uh uh," he waved his finger at her, "you only get two passes remember? You made that rule." She stared at him in outright disbelief. He was going to use her own game against her… again. "Tell you what, if you come cuddle up next to me in the middle of this booth, I'll let you pass on it," he patted the spot next to him. Suspiciously she stared at him, but she didn't see what choice she had. She was far too full of pride to admit he had actually pleasured her out in the field. No matter how strong her orgasm had been, she would never admit that it was anything more than average. With an irritated sigh she moved herself over close enough for their thighs to press against each other. Perfect. "Even though you're refusing to answer, I think we both know you enjoyed yourself," he leaned forward to whisper in her ear, "I enjoyed it."
Author Bio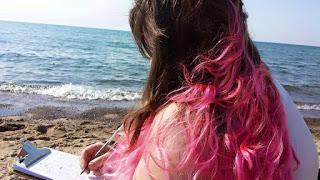 Alice K. Wayne is a paranormal romance/ erotica writer straight out of the Motor City.
From a young age books became her favorite escape, and that love eventually turned to writing as well.
Alice loves traveling, is a self proclaimed foodie, sushi addict, selfie Queen, and like all good Detroiters, is completely obsessed with Red Wings hockey.


Author Links


GOODREADS


AMAZON




FACEBOOK PROFILE




FACEBOOK PAGE




TWITTER




Giveaway


a Rafflecopter giveaway