The Breakfast Alchemy from Mettl is an attempt of replicating an Arthurian round table for the HR community in an innovative way. Mettl is recognized as a premiere talent assessment and measurement organization in India. The Breakfast Alchemy will witness top HR leaders uniting to fight against increasing challenges that are creating hindrances to the future outcomes in the industry.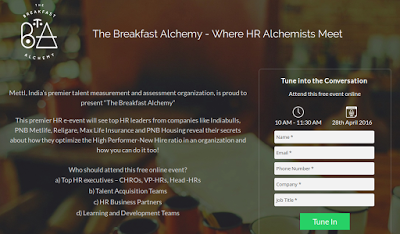 The unique step taken will enable HR fraternity an insight into looking at things from a different set of perspectives, from all directions and then finding out the most feasible and defect free solution for the core issues. The inaugural issue of The Breakfast Alchemy is scheduled for April 28. This will be one-and-a-half hour program starting 10:00 AM. The opening serial theme is Increasing High Performer – New Hire Ratio in BFSI. The participants would include big name companies from BFSI and related sectors – banking, insurance, and finance – that will include representation from PNB Metlife, Indiabulls, Max Life Insurance, Religare, and PNB Housing for brainstorming and talking about various aspects possible on the subject to draw out the best possible solutions.
As the attrition rate is increasing consistently, it has become a point of concern at a high scale. There is a tremendous slowdown in the industry with a target of negative bias for new career opportunities. The timely presented program from Mettl will help many industries in this regard to understand the real issues behind the curtain and how to overcome them. The program will be in case study format so as to get the fruitful insights from the HR veterans in the industry.
The Breakfast Alchemy has many unique aspects, the foremost being its ease of access. The event is free and moreover it will be streamed online so that the top HR executives, and various other stakeholders like Business Partners, L&D (Learning and Development), Talent Acquisition, etc. can tune in at their own comfort and ease.
Mettl has gone a step ahead to make these recordings available in the form of videos that will be available to all registrants after the event. This will help those who are unable to attend the event or watch its live streaming.
The well thought of title is of the event is in anticipation that the Human Resource leaders would act as experts like alchemists to forge gold, thereby finding a solution to the top most burning issues of the industry, using their years of experience.
Mettl is know for establishing an increase in the new hire-high performer ratio by deploying custom assessments for over 30 industries across the country. The Breakfast Alchemy intends to ensure to build up a new set of practices from the alchemists in the BFSI sector that will help creating parallels for a strong human capital framework.